---
Mirriam Nthenge
Open Society Foundation Disability Rights Scholar 2014/2015
LLM (National University of Ireland, Galway)
---
M Nthenge 'The Basic Education Act of 2013 as a tool for advancing early childhood development and education for children with disabilities in Kenya' (2017) 5 African Disability Rights Yearbook 3-24
http://doi.org/10.29053/2413-7138/2017/v5n1a1
---
The author would like to thank Dr Shivaun Quinlivan, Sarah Hofmayer and Elizabeth Kamundia for their constructive feedback.
---
Summary
The focus of this article is access to early childhood development and education (ECDE) by children with disabilities in Kenya. In general, ECDE has received minimal protection, if any, under international human rights law, including in the UN Convention on the Rights of Persons with Disabilities. The article argues that despite the gap in the international human rights framework on the rights of children with disabilities to access ECDE, domestically the Basic Education Act of 2013 provides an enabling framework to safeguard this right. To this end, the article argues that equality and non-discrimination, which underlie basic education law, provide a stronghold for advocating and implementing ECDE for children with disabilities in Kenya.

1 Introduction
Education is an empowerment and multiplier right. Access to quality education enables one to profit from other rights and is a prerequisite for individuals to have control over their lives.1 It is through education that individuals develop their human potential, sense of dignity and self-worth as well as their mental and physical abilities.2 Education builds a pathway for one to claim and advocate one's rights. For instance, it facilitates the acquisition and enhancement of skills for one to enjoy one's right to work.
Education also facilitates effective participation in political life. Furthermore, it broadens an understanding of proceedings of day-to-day activities, including information on leisure activities and norms governing society. Formal education is a systematic process where transition from one level is preceded by another. The significance of these levels is justified by skills gained at preceding stages as tools for advancing to the next level. The article focuses on one of the levels - early childhood development and education (ECDE). This level plays a crucial role in laying a foundation in education. However, the protection of early childhood development and education under both domestic and international human rights law remains uncertain.3
The article focuses on access to early childhood education by children with disabilities in Kenya. The central argument of the article is that, although early childhood education is not strongly protected in the normative international human rights framework, the Basic Education Act of 2013 provides a framework for advancing ECDE for children with disabilities in Kenya. Against this backdrop, the article attempts to answer the following questions: to what extent the Basic Education Act of 2013 provides a framework for safeguarding and promoting access to early childhood education for children with disabilities in Kenya; and what opportunities exist in Kenya's framework, and specifically in its blue print plan Vision 2030, to make access to early childhood education by children with disabilities a living reality. The structure of the article builds on these questions, and is divided into four sections. Section one begins by operationalising key terms used in the article and providing an overview of the general normative framework on the right to education. Section two introduces the education system in Kenya and legal tools on the right to education for children with disabilities in general. The section closes with an overview of treaty bodies' comments to Kenya on access to ECDE. Section three narrows down to the Basic Education Act of 2013. An in-depth analysis of relevant provisions on ECDE is conducted. In light of this, the section examines the way in which the relevant provisions of the law may be utilised to seek judicial remedy and to advocate access to ECDE by children with disabilities. The section goes further to examine opportunities for implementation, with a specific focus on one of the flagship projects on education under the Medium Term Plan (2013-2017).4 Section four provides a conclusion and highlights challenges that could be resolved in future research.
2 Operationalisation of terms and overview of the normative framework on the right to education - International and regional
The United Nations (UN) Educational, Scientific and Cultural Organisation (UNESCO) defines early childhood care and education as the period from birth to eight years of age.5 The UN Committee on Rights of the Child (CRC Committee) adopts a similar definition. General Comment 7 on implementing child rights in early childhood6 defines early childhood as 'all young children at birth throughout infancy, during the preschool years as well as during the transition to school'.7 However, in its reference to ECDE as the term used in Kenya's policies, the article narrows down to pre-primary education. The Basic Education Act of 2013 (Act) defines pre-primary school as 'education imparted to a child of four to five years before joining level one in primary school'.8
Additionally, for clarity in understanding, the article draws a distinction between inclusive education, integrated education and special education. The CRC Committee defines inclusive education as 'a set of values, principles and practices that seeks meaningful, effective, and quality education for all students, that does justice to the diversity of learning conditions and requirements not only of children with disabilities, but for all students'.9 General Comment 4 of the UN Committee on the Rights of Persons with Disabilities (CRPD Committee) on the right to inclusive education adopts a similar definition with additional elements.10 The CRPD Committee recognises partnership, support to teachers and monitoring as essential to inclusive education. The General Comment further defines segregated or special education as 'provision of education in separate environments designed to respond to a particular or various impairments, in isolation from students without disabilities'.11 Integrated education is defined as 'a process of placing persons with disabilities in existing mainstream educational institutions, and requiring them to adapt and accommodate to a pre-determined environment'.12 A common practice in integrated education includes isolated units for persons with disabilities in the mainstream school environment who transition after a certain period, depending on how they can cope with the mainstream environment.
2.1 Role of early childhood development and education
ECDE has been described as the foundation for subsequent learning. It is the period of remarkable physical and cognitive development and to 'children with disabilities it is key in enabling them to be in an inclusive environment'.13 Evidence demonstrates that experiences during the first years of growth enhance or inhibit the realisation of an individual's potential in future life. The CRC Committee corroborates this argument. It underscores the implementation of children's rights in early childhood as an effective way to help prevent personal, social and educational difficulties during middle childhood and adolescence.14
At the national level, the national early childhood development policy framework normatively acknowledges the benefits of investing in early childhood education for children with disabilities. The policy recognises that such investment allows early identification and intervention, and therefore ensures that children with disabilities maximise their talents.15 Early assessment coupled with intervention provide relevant information to families and teachers, especially about the support needs of the child that will optimise his or her learning potential.16
Access to quality ECDE by children with disabilities enhances their potential. At pre-school level, children are granted opportunities to learn to co-operate, develop fine motor skills, develop languages and opportunities to take responsibility and make choices.17 Teachers are expected to support children's sense of self-worth and encourage creativity. Inclusive ECDE for children with disabilities, therefore, will demand a recognition of differences and embrace diversity, hence the need to provide necessary accommodations and modifications to promote inclusion. This includes early training in orientation, mobility skills and alternative communications.
Stimulating early childhood education also enhances placement, retention and academic performance for children with disabilities. Bryant and Maxwell argue that children with disabilities who have been placed in inclusive early intervention groups are less often placed in special education and retained in a grade compared to those who have not.18 The Inclusive Early Childhood Service System Project (IECSS) argues that ECDE is more effective than schools at connecting family support, community development, and child development as integrated and equally important outcomes of inclusive practice.19 Early intervention, therefore, remains a prerequisite to inclusive education for persons with disabilities. The Convention on the Rights of Persons with Disabilities (CRPD) underscores inclusive education,20 as does the Salamanca Statement and the Framework for Action on Special Needs Education (1994).21
Flipping the coin to the economic side, the benefits of early intervention are immeasurable. Heckman argues that early intervention for children with disabilities not only helps to reduce the achievement gaps and the need for special education, but also promotes economic efficiency.22 An analysis of global experience of children with disabilities in schools indicates that key challenges facing inclusive education include a lack of accessibility, stereotyping, un-adapted curriculums and a lack of reasonable accommodation.23
The inclusion of children with disabilities right from the beginning of the education system minimises some of these challenges. Having all children learning together teaches children to value diversity, builds social capital and lays the foundation for inclusive communities.24 With regard to planning and availing necessary tools for education, schools are more likely to avail an inclusive environment at the onset. States, therefore, have to choose between providing adequate interventions in early stages or paying more in the future when phasing out segregated education in line with the standards set by the CRPD.25
2.2 Normative frameworks on the right to education - International and regional
The right to education is safeguarded in different international human rights instruments, namely, the Universal Declaration of Human Rights (Universal Declaration);26 the International Covenant on Economic, Social and Cultural Rights (ICESCR);27 the UN Convention on the Rights of the Child (CRC);28 and the CRPD.29 Regionally, the African Charter on Human and Peoples' Rights (African Charter),30 the African Charter on the Rights and Welfare of the Child (African Children's Charter),31 the Protocol to the African Charter on Human and Peoples' Rights on the Rights of Women in Africa (African Women's Protocol)32 and the African Youth Charter 33 safeguard the rights to education of persons with disabilities.
Specific emphasis on persons with disabilities is laid in articles 11(3) and 13 of the African Children's Charter. Article 13 of the Children's Charter obliges state parties to take special measures to ensure that gifted, female and disadvantaged children have equal access to education. This is further elaborated on in the guidelines on implementation of economic, social and cultural rights in the African Charter which calls for inclusive free and compulsory education for children with disabilities.34 More recently, the African Commission on Human and Peoples' Rights (African Commission) published the Draft Protocol to the African Charter on Human and Peoples' Rights on the Rights of Persons with Disabilities in Africa (Draft Disability Protocol).35 Article 12 of the Draft Disability Protocol explicitly refers to the rights to education of persons with disabilities, emphasising that persons with disabilities should not be considered uneducable or untrainable.
A running thread in all these instruments is the right to free and compulsory primary education. However, an explicit reference to early childhood education as an early intervention measure is missing, including in the CRPD. The drafters of the CRPD overlooked this particular issue, specifically in article 24, despite proposals during the negotiations to explicitly include early childhood and pre-school education.36 It is to be noted that the CRPD does emphasise early intervention in relation to the right to rehabilitation and the right to health.37The recommendations to state parties by the CRPD Committee also lack explicit guidance regarding early intervention under article 24. Instead, the Committee adopts a more general approach of recommending inclusive education at all levels. In cases where recommendations are targeting specific levels, the CRPD Committee explicitly makes reference to primary, secondary and tertiary education.38 Specific recommendations are only notable in the Concluding Observations of state parties such as Austria, where the CRPD Committee urges the state party to ensure inclusive education from kindergarten to secondary education.39
Nonetheless, recent developments by the CRPD Committee reflect a positive shift. In its General Comment 4 on article 24,40 the Committee underscores early detection, identification and access to services for pre-school children, together with the provision of support and training to parents and caregivers of young children with disabilities.41 The CRPD Committee, thus, encourages state parties to invest in inclusive pre-school education in light of the clear evidence of the benefits to children as well as the enhanced likelihood that attendance at pre-school results in greater acceptance into local community schools.42
At the regional level, the African Commission guidelines to state parties on the implementation of economic, social and cultural rights clearly interpret the right to education to include access to pre-primary education.43 However, the guidelines in subsequent paragraphs fail to elaborate on pre-school.
Contrary to the aforementioned instruments, the Standard Rules on Equalisation of Opportunities for Persons with Disabilities (Standard Rules)44 explicitly make reference to pre-primary education. Rule 6 reminds states to give special attention to very young children with disabilities and pre-school children with disabilities.45 While they remain non-binding, the Standard Rules have arguably become a norm of jus cogens.46 Therefore, Rule 6 read together with article 24 of the CRPD remains key in the promotion of access to early childhood education by learners with disabilities. One can also argue that article 26 of the CRPD on habilitation and rehabilitation to some extent addresses early intervention in school for children with disabilities. It obligates state parties to the CRPD:47
to take appropriate measures to enable persons with disabilities to attain and maintain maximum independence ... and full inclusion and participation in all aspects of life, specifically in the areas of ... education and social services, in such a way that these services and programmes begin at the earliest possible stage and are based on the multidisciplinary assessment of individual needs and strengths.
The Convention on the Elimination of all Forms of Discrimination Against Women (CEDAW)48 also reminds state parties to ensure equality of access by men and women to all levels of education, including pre-primary. Article 10(a) provides:
States shall take measures to ensure ... the same conditions for career and vocational guidance, for access to studies and for the achievement of diplomas in educational establishments of all categories in rural as well as in urban areas; this equality shall be ensured in pre-school, general, technical, professional and higher technical education, as well as in all types of vocational training.
Early intervention is recognised in other declarations, including the Salamanca Statement on Access to Special Education (1994),49 which called on states to invest greater effort in early identification and intervention strategies.50 The Dakar Framework for Action 2000 also recognises the need to expand and improve comprehensive ECDE, especially for the most vulnerable and disadvantaged children.51 Globally, ECDE is becoming an integral strand of discussions on the right to education. In the current 2030 Agenda for sustainable development,52 state parties commit to provide inclusive and equitable quality education at all levels, including early childhood education.53 Hence, while ECDE does not enjoy adequate protection in binding international norms, the correlation between early intervention, inclusive education and being included in the community54 remains unequivocal. The obligation to fulfil this right, therefore, remains inexcusable for state parties.
It is essential to note that Kenya is party to the aforementioned instruments55 and has endorsed international declarations on education, as discussed in this section. These treaties, therefore, form part of the laws of Kenya in line with article 2(6) of the Constitution of Kenya56 and can be used before court when seeking judicial remedy.57
3 Background information on persons with disabilities, the education system and general legislative framework on the right to education in Kenya
According to the World Disability Report 2011, persons with disabilities constitute 15 per cent of the general population.58 In Kenya, statistics indicate that persons with disabilities constitute 4,6 per cent of the general population, which translates to 1,7 million.59
Kenya has an 8-4-4 education system, which translates to eight years for primary school level, four years for secondary school level and four years for higher education.60 Domestically, the rights to education of persons with disabilities are embodied in both mainstream and disability-specific legislation. The Persons with Disabilities Act (PDA) safeguards the right to education and prohibits the denial of admission of a person with a disability to any course of study on the basis of a disability.61 The right to education is also recognised as a constitutional right in article 53(1)(b) of the Constitution of Kenya, which entitles every child to free and compulsory basic education. The Basic Education Act of 2013, which gives effect to article 53(1)(b) of the Constitution, explicitly provides for the rights to education of children with disabilities. An in-depth analysis of the Act is provided in the next section.
While the PDA seems to remain unclear on inclusive education62 and has been critiqued for promoting segregated education, the Constitution, the supreme law in Kenya, provides a framework that may be used to promote inclusive education. It does so, first, by prohibiting indirect or direct discrimination on the basis of disability.63 Second, it provides that persons with disabilities have a right to access educational institutions integrated in the society that are compatible to their interests.64 Third, it recognises the need for substantive equality by providing affirmative measures in education to redress historical disadvantages.65 In summary, the general framework on the rights to education of persons with disabilities in Kenya draws its strength from the robust equality and non-discrimination provisions in the Constitution of Kenya, 2010.
The actual practice, however, has little to be desired. In 2002, Kenya introduced a free primary education policy and later, in 2008, introduced free day-secondary school education.66 One of the gains of the policy is the affirmative action for children with disabilities who get extra allocation to the standard capitation for non-disabled children.67 However, this has not adequately advanced access to inclusive education by the majority of children with disabilities. In its report on access to education by children with disabilities, the Kenya National Commission on Human Rights recommended a review of the free primary education programme to meet the needs of children with disabilities. The National Commission on Human Rights reiterated:68
For these children, Free Primary Education (FPE) goes beyond the provision of desks, books and chalk to include boarding, transportation, health and specialised equipment and teaching-aids necessary to educate them effectively.
Additionally, due to existing stereotypes69 and an overemphasis on literacy and numeracy as a form of testing academic competence70 in mainstream schools, children with disabilities have been forced to go to special boarding schools.71 Statistics indicate that in total Kenya has 1 882 primary and secondary special needs schools.72 The majority of these schools are located far away from the childrens' homes, and parents are forced to pay a boarding fee.73 These extra costs have raised concerns at the treaty level with the CRC Committee, who requested Kenya to provide details of the hidden costs of education of children with disabilities.74
These challenges are further confirmed by statistics provided in Kenya's state report to the CRPD Committee. According to the state report, only 67 per cent of persons with disabilities were reported to have achieved primary education, while only 19 per cent had secondary education, with most attending special schools at pre-school and primary level. Only 39 per cent attended regular pre-school, and 37 per cent attended regular primary school respectively.75 From these statistics it is clear that most children with disabilities lay their foundation in a segregated environment. In addition, the statistics clearly indicate that, despite affirmative action, children with disabilities are not accessing education equally to their non-disabled peers. Unequal access to services has been interpreted as indirect discrimination.
In Autism Europe v France,76 the European Committee of Social Rights observed:77
Indirect discrimination may arise by failing to take due and positive account of all relevant differences or by failing to take adequate steps to ensure that the rights and collective advantage that are open to all are genuinely accessible by and all.
Subsequently, the Committee held that the fact that the proportion of children with autism being educated in either general or specialist schools was much lower than in the case of other children constituted a violation of article 15(1) of the European Social Charter on taking necessary measures to provide education for children with disabilities. The Committee also held that there was a violation of section 17(1) of the European Social Charter regarding the provision of sufficient and adequate services, whether alone or read in combination with article E on non-discrimination of the revised European Social Charter.
Similarly, the CRPD Committee raised concern over unequal access to services. In its review of the initial state report of Denmark, for example, the Committee raised its concern over unequal access to the complaints system of children with disabilities receiving different hours of support. The CRPD Committee reiterated:78
The Committee is concerned at reports that children in need of more than 9 hours of special education per week may submit a complaint to the Special Education Board, unlike children in need of fewer than 9 hours of special education per week who cannot submit a complaint to an independent authority regarding a lack of adequate educational support.
The CRPD Committee recommended amending the legislation to ensure that all children with disabilities can submit a complaint to an independent authority if they do not receive adequate educational support.79
The central argument of the article paper is that normatively, the principle of equality and non-discrimination, as embodied in both mainstream and disability-specific laws, including in the Basic Education Act, can be utilised to effectively safeguard access to early childhood education. This argument is further analysed in the next section, where the article discusses the extent to which the Act can promote access to ECDE by children with disabilities in Kenya.
3.1 Treaty bodies on access to early childhood education in Kenya
In its interaction with various treaty bodies, both at the regional and international level, Kenya has received various recommendations with regard to its commitment to guarantee access to early childhood education.
In considering Kenya's initial report, the African Committee of Experts on the Rights and Welfare of the Child (African Children's Committee) lauded Kenya for constantly increasing its budget allocation for early childhood education.80 Nonetheless, the Children's Committee expressed concern over the low number of children accessing early childhood education, highlighting that 65 per cent of children aged between three and six years had no access to pre-primary school facilities.
At the international level, an analysis of the CRPD Committee's Concluding Observations to state parties indicates a lack of explicit and conclusive guidance on access to early childhood education by children with disabilities.81 Conversely, the CRC Committee has expressed its concern on this issue. In its Concluding Observations, the CRC Committee urged Kenya to improve and strengthen early detection and treatment services.82 The CRC Committee further encouraged the inclusion of children with disabilities into the regular educational system and their inclusion in society.83 It urged Kenya to increase the financial allocation given to children with disabilities in schools, taking into account the specific needs of every child.
Specifically on ECDE, the CRC Committee urged Kenya to re-examine the best way of implementing the free primary education policy, due to its effect on enrolment in ECDE.84 The Committee further called for an increased budget allocation, particularly in pre-primary, primary and secondary education.85 In its most recent list of issues, the CRC Committee requested Kenya to provide data on the number of children benefiting from the early childhood development programmes.86 Ultimately, the fact that availability, affordability and accessibility of ECDE services have raised concerns clearly indicates the crucial role played by ECDE towards inclusive education.
The next section examines how the Basic Education Act of 2013 provides a framework of enhancing access to ECDE as an early intervention approach to inclusive education.
4 Basic Education Act of 2013 - A new dawn?
The Basic Education Act of 2013 gives effect to article 53(1)(b) of the Constitution on free and compulsory basic education.87 Critics of the Act have described it as 'one step forward and two steps back', especially due to its emphasis on segregated education as opposed to inclusive education.88 However, it is to be noted, specifically with regard to access to education by persons with disabilities, that the Act is the first education statute to explicitly refer to ECDE, including access to ECDE by persons with disabilities.89 Against this background, the next section examines how the Act can facilitate access to pre-primary school by children with disabilities. It does so by examining the following main issues: definitional aspects; equality and non-discrimination as a guiding principle; implementation of the Act; and prohibition of inhumane treatment of children with disabilities in educational settings.
4.1 Definitional aspects
The legal interpretation of terms remains of prime importance in the construction of obligations and entitlements. For instance, in its review of state party reports, the CRPD Committee has consistently called upon states to review their definition of discrimination to include reasonable accommodation and a shift from the medical model definition of disability to the social model.90 The emphasis of a broad definition is to ensure the legal recognition of denial of reasonable accommodation as a form of discrimination on the basis of disability, hence the right to a remedy.
With regard to the interpretation of terms, the Act adopts a broad definition of basic education to include pre-primary education and adult education. It defines basic education as 'educational programmes offered and imparted to a person in an institution and includes adult basic education and education offered in pre-primary educational institutions and centres'.91 It further defines pre-primary education as 'education imparted to a child of four or five years before joining level one in primary school'.92 Primary school is defined as 'education imparted to a child who has completed pre-primary school'.93 Article 53(1)(b) of the Constitution accords to every child the right to free and compulsory basic education.
Two issues arise from the above definitions: first, the question of whether pre-primary school is now free.94 The second question is whether pre-primary education is compulsory as seen in the definitions of basic education. With regard to these two issues (whether pre-primary school is now free and compulsory), the County Early Childhood Education Bill 2014 clarifies that 'every child has a right to free and compulsory early childhood education'.95 If enacted, the Early Childhood Education Bill, read together with the Act, will provide a framework for furthering access to early childhood education at the county level. Scholars corroborate this argument. To illustrate, in his article Murunga interprets the inclusion of pre-primary education in the definition of basic education as an opportunity to influence the implementation of ECDE at county level.96
In practice, specifically relating to the two issues flagged out, an observation is made in Kenya's report to the African Commission. Kenya reports:97
The government recognises the significant social and economic payoffs derived from investment in Early Childhood Development and Education (ECDE) including overcoming children educational disadvantages for poor children, supporting parents ... Previously investment in this area has been left mostly to the household, private sector and religious organisations. Since 2012, the processing of capitation grants to support ECDE with a budget of Kshs 1.6 billion to about 19 000 public ECDE centres with 1.4 million children commenced.
Hence, the government is taking concrete steps towards realising free and compulsory education at pre-primary level. Although not conclusively, one can argue that the government's shift of commitment to ECDE is predicated by an interpretation of basic education as it is provided for in the law.
4.2 Equality and non-discrimination as a guiding principle
The second issue to be examined is the guiding principles. Section 4 of the Act provides for the guiding principles, which are fundamental in interpreting the substantive provisions of the Act. The Act, among other principles, is anchored in free and compulsory basic education for every child, equality and non-discrimination, and equality of education standards, including the medium of instruction to every child in public school. Other principles include the encouragement and protection of the marginalised, persons with disabilities and those with special needs and, finally, the provision of appropriate human resources, funds, equipment, infrastructure and related resources to meet the needs of every child in basic education.98
Incontrovertibly, the principles under section 4 of the Act are centred on equality and non-discrimination. The Act, however, does not explicitly refer to reasonable accommodation. The Basic Education Regulations 2015 resolve this dilemma. It obliges all basic education institutions99 to provide reasonable accommodation100 to children with disabilities.101 These principles are indispensable when assessing the quality of pre-school education for children with disabilities.
From one perspective, it is about the application of the law across the board, regardless of the service provider, as long as services are open to the general public.102 In the case of ECDE for children with disabilities, therefore, it is an evaluation of whether children with disabilities equally access quality services in both public and private schools. A specific element to consider in examining whether children with disabilities equally access quality education services is to assess the provision of reasonable accommodation, which requires immediate realisation.103 The CRC Committee draws the attention of states to potential discrimination in access to quality services for young children, especially where health, education, welfare and other services are not universally available and are provided through a combination of state, private and charitable organisations.104 The provision of ECDE in Kenya is a combination of efforts by the state and the private sector. Research indicates that in the past most ECDE providers have not taken into consideration the needs of children with disabilities.105 Kenya should adopt a holistic approach in the operationalisation of equal access to ECDE by children with disabilities. This should encompass a monitoring mechanism, funding, data disaggregation of the number of children with disabilities accessing ECDE in both the private and public sector and an awareness campaign to combat stereotypes and prejudices.
4.3 Implementation
In accordance with the Fourth Schedule of the Constitution of Kenya, Part III of the Act devolves pre-primary education.106 The County Education Board, together with the county government, is obliged to oversee the operation and management of pre-primary education.107 In addition, the county government is obliged to report annually to the Cabinet secretary on the progress of education.108 Part IV of the Basic Education Act obligates the Cabinet secretary to implement free and compulsory basic education, including establishing pre-primary, primary and secondary schools within a reasonably accessible distance within a county.109 The use of 'shall' in both clauses places a mandatory obligation on government to provide free and compulsory education.110
Part IV further prohibits the charging of tuition fees; the denial of admission to school on different grounds, including disability; places a mandatory responsibility on parents to cause admission to a child; and criminalises the failure to fulfil this duty.111 Part VI on special needs education obligates the Cabinet secretary to establish and maintain public special schools, including pre-primary, primary and secondary schools.112
From these legislative provisions, four main observations may be made in relation to access to pre-primary education, both in special and inclusive environment. The first observation is that the Basic Education Act encourages the community-based service provision approach, which promotes social inclusion.113 This is a very positive step compared to past experiences. Kamundia observes that the lack of accessible schools in the community has forced children with disabilities to opt for boarding schools far away and being separated from their families at a tender age.114
The second observation is that the Basic Education Act safeguards choice; the law prohibits the denial of admission to any school on the basis of disability. The non-rejection clause reinforces the provisions of the CRPD115 to which Kenya is a party. The Office of High Commissioner for Human Rights (OHCHR) observes that non-rejection clauses require immediate realisation and are applicable on an individual basis and should not be subjected to reasonability tests.116 Further, the OHCHR calls for an end to the rejection of students in mainstream schools and urges states instead to provide appropriate support to facilitate their inclusion.117 In its review of Sweden, for instance, the CRPD Committee raised its concern over the refusal of admission to certain pupils with disabilities on the grounds of organisational and economic hardship.118 The Committee urged Sweden to guarantee the inclusion of all children with disabilities in the mainstream education system and to provide the necessary support.119 Similarly, in its recommendation to Kenya, the CRPD Committee urged Kenya to 'immediately adopt a non-rejection policy for children with disabilities enrolling in regular schools and to provide reasonable accommodation'.120
The third observation is that the Basic Education Act creates a mandatory responsibility on the Cabinet secretary, in consultation with the County government, to establish pre-primary schools. This responsibility is broadly interpreted to include all the resources that ensure the efficient and effective running of a learning institution. It is to be noted, however, that these responsibilities exist in a new system of devolved government which, as alluded to earlier, has the primary responsibility of the implementation of pre-primary education. As a new regime of governance, devolution is under test. While some counties have set up structures and are effectively running, others are still struggling.121 With regard to the implementation of ECDE, the National Education Sector Plan recognises that regional inequalities have negatively impacted on universal access to ECDE with some counties, specifically those from the northern region of Kenya recording the lowest percentage.122 To close existing gaps, the National Education Sector Plan calls on counties to expand the budget allocation for ECDE, and to train parents and teachers on enhancing care and education for younger children.123 To ensure accountability and compliance, the development of a partnership with parents, civil society, in particular representative organisations of persons with disabilities and oversight authorities such as human rights institutions, is an indispensable element.
The CRPD obligates states to involve and consult persons with disabilities and representative organisations in the development and implementation of legislation and policies related to their issues.124 Joint efforts between counties and representative organisations of persons with disabilities will be necessary to support the setting up of inclusive pre-primary schools. The independent monitoring framework, which includes the National Gender and Equality Commission and the Kenya National Commission on Human Rights, should also monitor the extent to which counties are complying with this obligation and identifying areas for harmonisation with universal education standards.125
The fourth observation is that the Basic Education Act creates a mandatory responsibility of parents to ensure the admission of children to schools and criminalises the failure to fulfil this duty. For many children with disabilities, this is a shield - a shield to protect them from prejudices and stereotypes propagated within the family. These stereotypes have been used to justify denying children with disabilities the right to education.126
Teachers recounted instances where they had to literally go to find children locked away by parents who saw no value in educating a child with disability. Many parents viewed such children as unproductive members of society or as 'victims' to be hidden.
The Act further puts a monitoring measure as a reinforcement mechanism to the mandatory responsibility of enrolling children with disabilities in school. It obligates the Cabinet secretary and the county Board on education to ensure completion and retention of children in school. It further calls for submissions of an annual report by the county governments to the national government on achievements of each academic year. The monitoring mechanism coupled with the parental responsibility to ensure admission of children with disabilities is a safeguard to keep up-to-date information on the extent to which children with disabilities are accessing education.
4.4 Prohibition of inhumane treatment of children with disabilities in education settings
The final observation is the prohibition and criminalisation of acts of torture, cruel, inhuman or degrading treatment, whether physical or psychological of children with disabilities in education settings.127 Research indicates that children with autism are disproportionally subjected to practices that deprive them of their liberty in schools. This is usually conducted on the account of dangerousness to oneself or others.128 Reports indicate that children with autism are locked in cages or in isolation rooms during episodic moments. Prolonged restraint amounts to torture. This provision, therefore, may be interpreted as a safeguard to protect children with disabilities from being subjected to inhumane practices. It also provides a ground for parents as equal participants in education to question any measure taken against their children, which does not reflect the best interests of the child.
Finally, the Basic Education Act obligates the County Education Board to commission education-related research. This is paramount especially in relation to pre-primary education. Education assessment and resource centres play a critical role of assessing children and placing them in schools. For a very long time, these centres have remained understaffed and underfunded, and there is little information on how to improve their efficiency.129 This includes adopting a multifaceted approach of assessing children's needs for support to be in an inclusive environment as opposed to the traditional medical model of identification to be placed in a special school. Research, therefore, constitutes one of the elements towards effective and efficient education assessment centres.
5 Opportunities for implementation
In 2008, Kenya adopted a blue print plan130 as a strategy towards the implementation of the Millennium Development Goals (MDGs) under three main pillars: the political pillar, the social pillar and the economic pillar. Education falls under the social pillar. Under the current medium term programme (MTP2), the mainstreaming of ECDE is under the flagship projects for implementation.131 The goals include a review of the ECDE policy framework; the establishment of ECDE resource centres in 47 counties; and the provision of capitation grants with adjustments for children with disabilities enrolled in public ECDE centres.132 Further, the Sustainable Development Goals (SDGs) represent an opportunity for implementation of inclusive ECDE for children with disabilities. The SDG message to leave no one behind seeks to ensure that the targets are met for all peoples and segments of society, including persons with disabilities. Kenya, therefore, will be required to put in place measures to ensure inclusive and equitable early childhood education.
6 Proposals for future research and conclusion
Finally, the article poses two challenges for future research: First, the Act provides that pre-primary education is education provided for children between the ages of four and five years. The standard period of early childhood development and education according to UNESCO is birth to eight years. The question of what happens to children with disabilities before four years poses the challenge of whether the age of four to five is enough for early intervention in relation to the education of children with disabilities. Of specific concern here is birth registration and how this affects subsequent stages of learning, especially because of the primacy of documentation in registering in the education system. This begs the question of what possible ways the government can use to ensure that children between the ages of birth to four are not left out in early interventions as the success of the intervention between ages four and five depends on prior interventions.
Second, how free is free education for children with disabilities at all levels? The Basic Education Act provides that no tuition fee shall be charged to any pupil. Access to education requires a multi-dimensional approach. Availability as a core element of education is a broad aspect more than just affordability and, for learners with disabilities, especially persons with high support needs, this requires taking a step further to the provision of necessary support such as assistive devices, dietary provisions and health checks, especially for children of tender age. The challenge here for pre-primary education, as enshrined in the Act, is how proper dietary provisions and early intervention measures such as rehabilitation will be achieved at school and family level, given the indirect relationship between poverty and persons with disabilities. Should the government enhance social protection programmes to families of children with disabilities?
In conclusion, the article argues that the Basic Education Act does provide a legal pathway of promoting pre-primary school for children with disabilities in Kenya. The Act and the SDGs133 reinforce one another. The Act can offer guidance for the implementation of pre-primary education for children with disabilities, while the SDGs can contribute to the realisation of this right. Moving from paper to practice, therefore, requires adequate funding which should be earmarked at county budgeting, keeping up-to-date statistics which will assist in planning and adopting universal design as a way of dealing with accessibility challenges. The effective development and implementation of ECDE will also require effective participation and the involvement of disabled persons' organisations and representative organisations of children with disabilities, hence the need for partnership between civil society and parents. Additionally, the monitoring framework under article 33(2) of the CRPD should monitor the extent to which counties are promoting access to ECDE by children with disabilities.
---
---
Abdallah Possi
Tanzanian Ambassador to the Federal Republic of Germany
LLB LLM (Dar es Salaam) DPhil (Erlangen)
Ally Possi
PGD Legal Practice (Law School of Tanzania); Post-Doctoral Fellow, Faculty of Law, North West University, South Africa; Lecturer, Law School of Tanzania
LLB (Mzumbe) LLM (UCT) LLD (Pretoria)
---
A Possi & A Possi 'The identity question versus appropriateness of legal anti-discrimination measures: Endorsing the disability rights approach to albinism' (2017) 5 African Disability Rights Yearbook 118-140
http://doi.org/10.29053/2413-7138/2017/v5n1a7
---
Summary
The marginalisation of persons with albinism has for years gone unnoticed. Recently various platforms have been used to combat reported harmful practices against persons with albinism, particularly in Africa. While it is currently accepted that albinism is a human rights agenda, the manner of its advocacy remains unresolved with respect to the 'appropriate legal approach' for protecting the rights of persons with albinism. When addressing this problem, two issues appear to be confused: identity (the 'who are we' question); and the appropriate legal anti-discrimination approach. Thus, the two issues are distinguished in this contribution by endorsing the 'appropriate legal anti-discrimination approach' in realising the rights of persons with albinism. It is worth noting that questions of identity are subjective and should not be confused with objective and empirical questions regarding the appropriate legal mechanisms designed to promote and protect the rights of a particular group. Without downplaying the significance of identity in the formation of the rights groups movement, which has proved vital to the development of human rights, this contribution argues that, while persons with albinism might have multiple identities, the 'disability rights approach', which is founded on the social model of disability that uses human rights as a path, is well placed to accommodate matters concerning the rights and equality of persons with albinism.
1 Introduction
Recent human rights discourse has been dominated by debates seeking to adopt preferable solutions for realising the rights of persons with albinism. Indeed, albinism is now widely acknowledged to be a human rights concern. However, the latest approaches deployed to address this concern conflict with one another and, at times, overlap. The question of identity has emerged, as has uncertainty over the best approach to adopt in attempting to realise the rights of persons with albinism.
Before unpacking the main issues in this area of concern, a general understanding of albinism is important. It is a rare, non-contagious, genetically-inherited condition present at birth. It is found in both genders, regardless of ethnicity, and in all countries of the world. The condition results in a lack of pigmentation (melanin) in the hair, skin and eyes, causing vulnerability to the sun and bright light. As a result, most persons with albinism have varying levels of visual impairments (some may be legally blind) and are prone to developing skin cancer.1 The medical approach to albinism is insufficient as it treats the condition as an illness or defect2 - a 'disease involving lack of pigmentation'.3
The prevalence of albinism varies across the world.4 It is estimated that one in every 20 000 persons in North America and Europe has some form of albinism, while the reported frequency in sub-Saharan Africa ranges from one in 5 000 to one in 15 000, with prevalence rates of one in 1 000 to one in 1 500 for selected populations.5 However, studies on the frequency of albinism often lack objectivity in their methodology or are incomplete, rendering the estimates guesses at best. According to World Health Organisation (WHO) estimates, there are tens of thousands of people living with albinism in Africa. 6
Negative social perceptions are a major obstacle to the enjoyment of the right to equality and other human rights of persons with albinism.7 The literature reveals a long history of widespread acts of stigma against persons with albinism in different places throughout the world,8 where they are viewed as inferior, bizarre and sinister,9 and often subjected to ridicule.10 There were even times when African Americans with albinism or those with vitiligo were exhibited in taverns, dime museums and circus sideshows.11 The portrayal of albinism in some films and fiction has been viewed by activists to be mostly negative, and this supports and stimulates societal intolerance and discrimination against the group.12 In some places, because of a lack of understanding about albinism, it is taken for granted that persons with albinism have perfect vision and, therefore, should not require assistance.13
The visibility of persons with albinism differs according to geographical location. In Western societies, where the populations are predominantly pale-skinned, persons with albinism often pass unnoticed, while in sub-Saharan Africa the condition is usually visible.14
In addition to the practical problems associated with albinism generally in Africa, an enduring challenge encountered by persons with albinism is the stigmatisation and ostracism they face.15 Such treatment is often associated with a web of myths pertaining to the condition, which myths usually have negative connotations.16 At the centre of all challenges confronting persons with albinism, women and children with albinism have always been most vulnerable in this regard. Children with albinism are at risk of abandonment, discrimination and exclusion17 because of the existence of harmful traditional practices of infanticide against them, as is commonly reported in some African communities.18 General problems of marginalisation in education and employment also affect persons with albinism.19 Their lack of education results in high unemployment rates which ultimately give rise to them experiencing the additional problems associated with low income and poverty. As a result, many persons with albinism in Africa cannot afford the cost of what they particularly need, such as proper sun screen lotions,20 and, therefore, are at greater risk of developing skin cancer. The level of discrimination and the prevalence of myths have gone as far as 'promoting' the ritual killing of persons with albinism and the trade in their organs, the trafficking of their persons and the sale of children with albinism, often motivated by the myth that the 'body parts of persons with albinism possess magical powers capable of bringing riches and power'.21
As stated above, while it is not in doubt that albinism currently is a human rights concern, the question of the 'appropriate legal approach' for realising the rights of persons with albinism appears not to have been conclusively answered. Thus, this contribution investigates the appropriate human rights approach for safeguarding the rights of persons with albinism and endorses the view that the disability rights approach appropriately accommodates matters concerning the rights and equality of persons with albinism.
This contribution contains six sections. The first is a general introductory section, which is followed by an assessment of the current international and regional approaches to protecting the rights of persons with albinism. The third section reveals some concerns surrounding the grounds of discrimination which have a bearing on advancing the rights of persons with this condition. The disability approach to albinism, which forms the central concern of this work, is analysed in section four. The approach endorsed still faces some challenges, which the article identifies in section five. Lastly, section six contains concluding remarks.
2 International and regional approaches to albinism
The second half of 2013 witnessed several landmark developments in advancing the rights of persons with albinism. International and regional human rights institutions took centre stage in this process. At the United Nations (UN), the Resolution on Attacks and Discrimination against
Persons with Albinism22 was adopted by the Human Rights Council in June 2013. Later, in September 2013, the Office of the UN Human Rights Commissioner issued the Preliminary Report on Persons with Albinism.23 Fourteen days after the publication of this report, the Human Rights Council adopted a Resolution on Technical Co-operation for the Prevention of Attacks Against Persons with Albinism.24 Recent achievements at the UN were the proclamation of 13 June as the International Albinism Awareness Day;25 the issuing of the Human Rights Council's Advisory Committee Report on a Study on the Situation of Human Rights of Persons with Albinism;26 and the appointment of the Independent Expert on the Enjoyment of Human Rights by Persons with Albinism,27 who issued her first report on 18 January 2016.28
Amongst the steps taken by the African Union (AU) through the intervention of African human rights institutions were the adoption of the Resolution on the Prevention of Attacks and Discrimination against Persons with Albinism,29 and a Declaration on Ending Discrimination and Violence against Girls in Africa.30 There has also been an investigative mission with respect to the situation of children with albinism. 31
While the Human Rights Council Resolution on Attacks and Discrimination against Persons with Albinism32 does not mention disability, the African Commission Resolution on the Prevention of Attacks and Discrimination against Persons with Albinism, which in many respects is similar to the UN Albinism Resolution, directly adopts a disability approach to albinism. Not only does the Albinism Resolution of the African Commission on Human and Peoples' Rights (African Commission) refer to article 18(4) of the African Charter on Human and Peoples' Rights (African Charter), which provides for the rights of persons with disabilities to special measures of protection in keeping with their physical or moral needs, but article 7 of the Albinism Resolution also invites its Working Group on Older Persons and People with Disabilities to include guarantees of the rights of persons with albinism in the envisaged Draft Protocol to the African Charter on Human and Peoples' Rights on the Rights of Persons with Disabilities in Africa (African Disability Protocol). However, the Declaration on Ending Discrimination and Violence against Girls in Africa appears to treat albinism and disability as distinct issues, for example, when it requires member states to
take urgent and appropriate measures to support and provide for the needs of girls, particularly those in vulnerable circumstances, such as girls with disabilities, girls with albinism, girls in disasters ...
This kind of distinction (girls with disabilities and girls with albinism) appears four times in the declaration, which suggests that it was not accidental.
The latest international and regional developments set the stage for the adoption of the right approach to realising the rights of persons with albinism, while also raising relevant questions for consideration with respect to the appropriate approach. In fact, there are similarities between persons with albinism and those belonging to groups internationally accepted as minorities, or other groups that have suffered from marginalisation on whatever grounds. Nevertheless, it is necessary to study the situation and come up with a precise understanding of the phenomenon, since overgeneralisation runs the risk of obfuscating particular aspects of the condition that ought to be considered if real equality is to be realised. This makes it necessary to debate the appropriateness or otherwise of the disability approach to albinism. However, it is necessary first to determine how to categorise albinism as a cause of discrimination, which is done in the next section.
3 Albinism and the problem of categorising the basis of discrimination
While it is clear that persons with albinism experience marginalisation and discrimination, there seem to be some difficulties or contradictions in identifying the category into which they fall on the basis of discrimination. It appears that there are conflicting opinions as to how discrimination against persons with albinism should be dealt with, namely, whether the orthodox civil rights approach, based on colour (independently from the grounds of race and ethnic origin)33 should be adopted, or the disability rights approach.34 A closer examination of the arguments for these approaches follows.
The Preliminary Report of the Office of the UN High Commissioner for Human Rights on the Attacks and Discrimination against Persons with Albinism called for further analysis and consultations to determine the category into which persons with albinism may fall and the basis for discrimination against these persons.35 On the question of whether persons with albinism should be categorised as persons with disabilities, the Report noted: 36
In some of the written submissions received from associations working with persons with albinism, they are considered persons with disabilities. Others refer to discrimination on the ground of skin colour.37
According to the Convention on the Rights of Persons with Disabilities (CRPD), persons with albinism could be considered persons with disabilities. According to information received, the laws of some states recognise albinism and the associated visual impairment as a disability. An additional review of the national legislation on disability needs to be conducted, and consultations with persons with albinism are required on the issue of self-identification. 38
The report also considered other grounds of discrimination that could be used to protect persons with albinism, such as race, minority status or 'other status', and stated:
The Committee on the Elimination of Racial Discrimination has not yet examined the issue of discrimination on the basis of colour with respect to persons with albinism.39
The Independent Expert on minority issues has stated that '[p]eople living with albinism do not fall under the internationally accepted definition of minorities ... However, their stigma, the lifelong social exclusion and general discrimination they face is a similar experience to those vulnerable racial minorities because of their different skin colour.'40
Organisations working with persons with albinism advocate for considering them as a group requiring special attention, as the discrimination and attacks they are exposed to are mainly rooted in erroneous beliefs and myths that must be addressed. 41
The Human Rights Council's Advisory Committee Report on a Study on the Situation of Human Rights of Persons with Albinism states inter alia:42
Human rights challenges associated with albinism are multi-layered and are not currently being addressed in a comprehensive and sustainable manner by any human rights mechanism. In addition to the fact that they do not fall within the scope of the current definition of minorities, persons with albinism often suffer from poor eyesight and are prone to developing skin cancer, but cannot or would not want to be classified as persons with disabilities, as that would mean adding another layer of labelling and discrimination to which they may be subjected.
The Independent Expert's first report on albinism connects disability only with the visual impairment effects of albinism.43 This is also the opinion of some in Europe and North America.44 There is also the view that the problems with vision associated with albinism may not on their own be sufficient to constitute an impairment which substantially limits a major life activity.45 Therefore, the 'perceived disability' approach has been proposed, which puts the focus on (another's) perception of the individual as 'disabled' without requiring the individual to view himself or herself as 'disabled'.46
In an effort to determine the 'appropriate legal approach' to realising the rights of persons with albinism, conflicting views often emerge in relation to the question of identity as a construction of 'self' and the question of the appropriate legal anti-discrimination approach. This could be complicated by any attempt to 'universalise' albinism, thereby overlooking some issues, such as the evolving concept of disability. Much as issues of albinism cannot be 'universalised', the thesis of this contribution is that questions of identity are subjective and should not be weighed against objective and empirical questions regarding the appropriate legal mechanisms designed to promote and protect the rights of particular groups. This requires a closer look at identity, its formation and rejection, on the one hand, and the nature and purpose of legal terms, on the other.
The understanding of one's 'self' is a step forward in the development of group identity, which has been used as a political tool for marginalised groups47 such as persons with albinism. Every human being is aware of his or her individuality, and this awareness enables us to reflect on who we are, whom we choose to identify with, and what we choose to do as matters of choice, not compulsion.48 Identity is empowering when self-ascribed, but can be delimiting when identity is ascribed to one by others.49 Identity is a subjective experience and 'fluid', being subjected to the fluctuations of self and society;50 and time, space and relationality are all important in identity formation and the achievement of a self-concept.51
People may accept or reject identities merely because of a variety of perceptions in their societies. For example, when disability identity is perceived as inferior, some persons with disabilities may try to conceal social markers of impairment to avoid the stigma of disability,52 and may feel the need to overcompensate for their impairments; that is, the need to succeed at levels higher than their colleagues without disabilities, which may lead to their developing a stressful lifestyle.53 Others may try to shift the focus of their impairment through denial. This is what has been referred to as 'disability passing'.54 In other words, the disability label may have offered some persons an opportunity to limit the freedom and independence of others, and a significant number of persons with disabilities may resolve to make everyone think that they do not have a disability,55 or even develop negative attitudes towards others with disabilities in an effort to pass as 'normal'.56 In the circumstances, certain persons with albinism may reject a particular identity such as a disability identity. This is not because they do not have an impairment, but because of the effects linked to societal perceptions that 'disability is a bad thing'.57 Therefore, stigmatisation may have the result that some persons with albinism may internalise the harmful reactions that are generated by ignorance, cultural beliefs and myths, hence prompting a loss of self-esteem, which may possibly make them conclude that they have little to be proud of, either as persons with disabilities, in general, or as persons with albinism, in particular.58 On the other hand, the shift from medical to social approaches to disability has situated disability as a 'valued concept' in identity formation and, in this way, the adoption of a disability identity is seen as the 'reclaiming of the body' from approaches that have diminished the value of persons with disabilities.59
When a particular concept is used in a legal sense, its meaning is not always subjected to an individual being's perceptions or desires. Any legal term in a statute serves a particular purpose in that statute. The concept of disability, for example, is capable of being construed in either the context of identity as above, or in the legal sense. Used in a legal context, it has a 'gate-keeping function' since it denotes the class of people entitled to special benefits, or those who qualify for reasonable accommodation and protection against discrimination.60 To achieve this purpose, disability has to be objectively interpreted, as against disability as a subjective, individual (self)-construction. When it is construed with respect to the perception of self, disability may not necessarily produce the same results as when the term is used in a purely legal sense. It is also a fact that certain conditions may have 'multiple' identities and could well fit in with specific legal concepts defining particular groups. Where the same meaning is produced in both the subjective and objective construction of a particular concept, this should be more of a coincidence than a matter of pure logic.
This rejection of over-emphasising the construction of self in determining the basis of discrimination should not be construed as ignoring the significance of identity in the formation of a rights group movement and, for the purposes of this contribution, the 'albinism movement'. It is not in doubt that the recognition of one group in society by others comes about only with self-awareness within that group of its differences and strengths.61 The main point here is that identity issues and prohibited grounds of discrimination are not necessarily the same thing.
The perceived difficulty of defining the type of discrimination that occurs against persons with albinism, or the conflation of the question of identity as a construction of 'self' with the question of an appropriate approach to legal anti-discrimination measures, may well have arisen as a result of overlooking the potential of the disability approach to albinism, which is explored in the following section.
4 Disability approach to albinism
When contemplating the disability approach to albinism, one cannot ignore the complex relationship and, at times, the overlap, between the disability identity and the legal, human rights concept of disability. Furthermore, as there cannot be a universal legal definition of disability, it is inappropriate to narrow the definition and exclude any possibility of having some flexibility in interpreting the term. We expound the disability approach to albinism first by stating the extent to which disability as a matter of identity differs from disability in the legal context, and proceed to emphasise the broad concept of disability, considering the possibility of catering for albinism in domestic disability legislation. The disability approach to albinism is preferred, as this approach is better able to address the concerns of persons with albinism in Africa.
5 Potential challenges to the disability approach to albinism
The broad human rights approach to disability properly addresses albinism issues, especially in Africa, with respect to both visual impairment and skin pigmentation. However, there are still those who do not appear to fully appreciate the disability rights approach to albinism. This may be the case for a number of reasons, such as the continued existence of the vestiges of the medical approach to disability, weaknesses within the African albinism movement, and faulty attempts at universalising albinism, amongst others.
There are numerous policies and pieces of legislation in various countries that maintain the medical approach to disability, making it tedious to progressively address the concerns of albinism. For example, Uganda's definition of disability is tied to 'a substantial functional limitation of daily life activities'.121 Although there are some references to environmental barriers, the legislation contains the 'disability coding' which not only reflects the medical approach to disability but also excludes persons with albinism.122 Some other examples of the medical approach to disability or the medical definition thereof can be seen in the disability legislation of Rwanda123 and Sierra Leone.124 In South Africa, although the Constitution as a whole is widely deemed (amongst some scholars) to be admirable, some uncertainties remain in defining persons with disabilities. Different pieces of legislation define disability for different purposes, such as employment and social security.125 None of these definitions incorporates persons with albinism. In Ghana, the Persons with Disability Act126 defines neither disability nor a person with a disability, making it problematic not only for persons with albinism who may seek to benefit from the said legislation, but also for other persons who may fall within the disability group. We take note, though, that the fact that the respective countries have ratified the CRPD is itself a progressive step towards a more inclusive approach to disability.
The medical approach to disability is likely to lead to persons with albinism being categorised as being 'impaired', which leads to stigmatisation and disempowerment. The construction of diametrically-opposed identities, the good against the bad, the strong against the weak, or the desirable against the undesirable, is fundamental to the oppression of persons with disabilities.127 When this is the perception of disability amongst individuals with albinism, it is not possible to easily support the disability approach to albinism, since they too would perceive disability as a 'bad thing'. In other words, the rejection of the disability approach to albinism by some persons with albinism could well be caused by the fact that they too, perhaps unknowingly, also stigmatise persons with other forms of impairment.
The rejection of the disability approach to albinism by some individuals with albinism may influence them to look for a different way of characterising the nature or cause of discrimination against persons with albinism. When this happens in an environment where the African albinism movement lacks the ability to venture separately into the international arena, there is a risk of falling into the old trap of treating some conditions as universal from the perspective of Western rights movements. This observation should not be regarded as intended to discredit the tremendous efforts being made by some Western albinism rights activists who have worked tirelessly to promote the albinism agenda in the international human rights fraternity.128 The point is that the weakness of the albinism movement in Africa has been the cause of inadequate dialogue amongst albinism organisations on the continent, a situation which has made it impossible to present a stronger albinism voice within the disability movement, even in jurisdictions where albinism is generally accepted as a disability. This has created the further possibility of developing the idea that the rights approach to albinism can be uniform and universalised.
6 Conclusion
A lack of pigmentation constitutes an impairment, which forms one part of the definition of a person with a disability. Despite the existence of this impairment, albinism is not universally characterised as a disability in legal terms. This alone must not prevent or discourage persons with albinism from pursuing their rights under the disability rights mechanism, considering the fact that even the term 'disability' itself does not have a universal definition. Thus, this contribution puts forward the view that in Africa, and probably in some other parts of the world, albinism can be legally construed as a disability with respect to both visual impairment and a lack of skin pigmentation. The task ahead is to ensure that the specific needs of persons with albinism are exhaustively addressed in future policies and programmes so as to cater for the full realisation of their rights.
---
---
Magnus Mfoafo-M'Carthy
Associate Professor, Faculty of Social Work and Tshepo Institute for the Study of Contemporary Africa, Wilfrid Laurier University, Waterloo, Canada. This article is part of a larger project funded by the Social Sciences and Humanities Research Council of Canada.
Jeff D Grishow
Associate Professor, Department of History and Tshepo Institute for the Study of Contemporary Africa, Wilfrid Laurier University, Waterloo, Canada.
---
M Mfoafo-M'Carthy & JD Grishow 'Mental illness, stigma and disability rights in Ghana' (2017) 5 African Disability Rights Yearbook 84-100
http://doi.org/10.29053/2413-7138/2017/v5n1a5
---
Summary
Ghana has recently received much attention for human rights abuses against persons with mental illnesses in traditional 'fetish' and Christian prayer camps. Evidence has surfaced of Ghanaians with mental illnesses being forced against their will to attend the camps only to be physically abused, forcibly isolated and even chained to trees. Not only do these practices reveal a high level of stigma, but they also contravene the spirit and intention of the United Nations Convention on the Rights of Persons with Disabilities (CRPD). Despite the fact that Ghana has ratified in the CRPD and passed a new Mental Health Act in 2012, there has been little reaction in the country towards the harsh treatment of patients with mental illnesses at the camps. Lately, however, Ghanaian disability activists have started to take up their cause, protesting the camps as sites of human rights abuses. Starting with the example of one of these activists, also a camp survivor, the article investigates the potential of a human rights framework as a tool for improving the delivery of mental health services in Ghana.
1 Introduction
In October 2014, the Christian Health Association of Ghana released a film on stigma and mental health to raise awareness about human rights abuses faced by Ghanaians with mental illnesses. The film narrates the story of Doris Appiah Danquah, whose experience with manic depression forced her out of university and into a series of 'healing' camps between the late 1970s and early 1990s. In 1978, Danquah earned a place in the Medical School of the Ghana's premier university, the University of Ghana, after posting top marks at the prestigious Achimota High School in Accra. Her studies did not last long. Shortly after arriving on campus, Danquah began to feel a 'deep sadness and a deep fear'. She wanted to be alone, skipped classes and struggled mightily as her dream of a medical degree began to slip away. Eventually Doris was diagnosed with manic depression, and her parents realised that she would not be able to complete university without treatment. The University gave her a three-year leave of absence to recover and return to the programme. What followed, however, was 22 years of being moved from institution to institution as Danquah's family searched in vain for a solution. The first choice was the Accra Psychiatric Hospital, located in the country's capital. However, the hospital's psychiatrist turned Doris away, informing her parents that her condition was 'simply who she was'; that nothing could be done medically; she would never recover, and Doris and her family would have to accept her condition.1
Desperate to find a cure, Doris' family tried a series of traditional fetish shrines and Christian prayer camps, believing that her condition had a spiritual cause and that 'Doris's depressed soul had escaped from the world of reality and needed to be persuaded back home'.2 Doris's father initially took her to a famous fetish shrine called Akonedi at Larteh in the eastern region of the country. In Larteh, the traditional healers prescribed to Danquah herbs mixed with gin and administered by a caregiver who also helped to dress and bathe her. This placement ended when the caregiver lashed Doris with a belt, catching her eye with the hook, after she had told him that she intended to escape to Accra. Having heard about the beating, Doris's father moved her to another fetish shrine, the Nana Ntia shrine at Gomoah Fete in the central region.3
This visit also failed and the family moved her to a Christian prayer camp in Kumasi. Treatment at the prayer camp included forced fasting and an 'intensive routine of prayers and casting away [of] demons'.4 Ms Danquah recounts that she was beaten by camp officials for challenging the truth of the Bible. When she resisted the beatings, she was chained, for days at a time despite the elements, rain or shine; she was released only to bathe and then chained again. One night, the drunk brother of the pastor came to Ms Danquah and hit her with a gin bottle before shackling her. Camp staff also chained her up after unsuccessful escape attempts. She eventually escaped successfully and found herself roaming the streets. Her family found her and sent her to another prayer camp, this time in a remote area past Zebilla in the northern part of the country. Once again Danquah escaped and, according to her account, she decided to return home and heal herself. Gradually she started feeling better and eventually returned to university, graduating with a nursing degree. Recently, Doris found work as the director of an orphanage, and she acts as a strong advocate for the rights of Ghanaians with mental illnesses.5
Doris Danquah claims that she experienced many forms of stigma during her years of involuntary treatment. Many people blamed her for her illness, telling her that the depression was a punishment from God for past wickedness or evil acts. Maybe, others said, she had taken someone's husband or was a witch who killed her children. Whatever the precise belief, she was told that her manic depression was a divine punishment for her sins because she 'didn't serve God well'.6 When she found herself alone on the streets, some people gave her food or money but still expressed deep prejudices. In one example, Ms Danquah recounted that some children gave her a few coins to buy food but threw the plate into a fire after she had finished eating. This seemed to have been a common practice, and Ghanaian psychiatrist Dr Gordon Donnir, who was interviewed along with Danquah in 2014, attributes this to the belief that mental illness is contagious and can be transmitted through direct contact with the 'infected' person. In Dr Donnir's opinion, these actions show that individuals diagnosed with a mental illness are the most stigmatised of any disabled group in Ghana. 7
What should we make of Doris Danquah's narrative in Still I arise?8 As Nepveux and Beiticks observe, there is a tendency for disability documentaries to present Western, neo-colonial narratives of disability that portray disabled Africans as inferior, passive and in need of Western charitable interventions.9 This is certainly the case in the two films they study - Emmanuel's gift (Ghana) and Moja Moja (Kenya) - and it certainly could be true of African-produced films such as Still I arise as Ghanaian perspectives such as Danquah's could be influenced by charitable/neo-colonial models and assumptions about disability. Nevertheless, we argue that Still I arise (Ms Danquah's story) is different in its emphasis on agency and personal efforts to free oneself from discrimination and stigma through self-healing. This is a story of the strength, perseverance and tenacity of a disabled individual, who takes back power after it was taken from her. It is also a story of rights, in that Ms Danquah talks openly about the violation of human rights in the prayer camps and (to a lesser extent) fetish shrines, and the need to enhance disability rights by changing attitudes towards disabled Ghanaians. In its insistence on rights for persons with mental illnesses as a precursor for self-healing and self-determination, Danquah's story hits on the core debates over the United Nations (UN) Convention on the Rights of Persons with Disabilities (CRPD) and mental health, and offers an excellent springboard for assessing the potential of the CRPD in light of Ghanaian conditions. First, however, we must address the issue of the validity of Danquah's claims.
2 Disability, mental illness and stigma in Ghana
Are Ms Danquah's claims valid in light of what we know about the prevalence and causes of stigma towards persons with mental illnesses in Ghana? Answering this for Ghana is complicated by the fact that many foreign non-governmental organisations (NGOs) and media outlets portray many African countries - and Africa generally - as particularly prone to stigma towards disability. Following Ahmedani, we define stigma with reference to Goffman and Dudley, whose definitions of stigma include attitudes that discredit individuals and discount their identities, as well as stereotypes that portray individuals or groups as inferior against societal norms.10 Using this definition, many popular reports paint a picture of Africa generally as particularly prone to stigma against disabled persons. At best, attitudes of stigmatising result in disabled persons being denied access to health care and education. At worst, they are hidden, locked away, abandoned or even killed. While the popular literature tends to make such pronouncements without solid evidence,11 the weight of recent scholarly research - stimulated by the Movement for Global Mental Health launched in 200712 - does point to widespread stigma in Africa. This research represents a significant shift in opinion over the past decade. Previously, many commentators assumed that stigma towards mental illness was low in Africa compared to that in other parts of the world. This perception was reinforced by a lack of research into stigma and mental illness in Africa. A survey of existing research conducted in 2006 found only 62 publications worldwide between 1990 and 2004 on beliefs and attitudes towards mental illness. The vast majority focused on European countries, and Ethiopia was the only African country on the list, represented by a single study on the north-western part of the country published in 1999.13 Since 2004 many more academic studies have appeared, most likely connected to the advocacy efforts of the Movement for Global Mental Health mentioned above. The more recent work has found evidence of widespread stigma towards mental illness in Africa. For example, researchers have found unexpected high levels of stigma towards persons with mental illnesses among Nigerian clergy and university students, towards persons with psychotic illnesses in South Africa, and in primary schools in Kenya.14 On a comparative level, one study concluded that stigma towards mental illness was worse in Cameroon than in Canada.15
In Ghana, a recent study of disability in Accra reveals evidence of widespread discrimination and stigma towards disabled Ghanaians generally, who are among 'Ghana's most excluded members of society'.16 Recent literature on mental illness in Ghana presents a similar picture of high levels of stigma, on four levels: within the family; in public settings; at the workplace; and among health service providers. At the family level, academic research points to high levels of discrimination and stigmatisation against family members with mental illnesses. In the community of Pantang in Accra, Dako-Gyeke and Asumang found that most of the patients had been deserted by their families (spouses, parents and children, among others), beaten up, molested, labelled as witches and accused of causing their own predicaments. They further found that that if persons with mental illnesses were parents, their family members denied them access to their children on the grounds that the parents were dangerous and might harm the children.17 These findings have been corroborated by other research. In a study and focused on the three main psychiatric hospitals in Ghana (Pantang, Accra and Cape Coast), Barke et al found that mental health patients were discriminated against and stigmatised by their families, as some participants asserted that they did not feel comfortable living with persons with mental illnesses or who had a history of mental disorders. Among other things, participants claimed that the behaviour of mental patients was never predictable and, as such, they were dangerous and potentially harmful to family members.18
In a study in Ho in the Volta region, Tawiah found that people with mental health issues were discriminated against and stigmatised at the economic, social and psychological levels within their family settings. At the economic level, family members denied food and the basic necessities of life to relatives with mental disorders. This psychologically impacted them as it affected their self-esteem. Socially, some family members hid relatives with mental illnesses from the public, and verbally abused, ridiculed and mocked them at home.19 The consequences of the above types of abuse in family settings are devastating to the healing processes of Ghanaians with mental illnesses. At the very points where they need the most moral, social, financial and physical support, those who should be the most supportive tend to either abuse them or simply abandon them to their fate. As a result, mental patients always feel isolated and distant from their loved ones, and they develop a low self-esteem.20 At the other end of the spectrum, several studies have found that some families discriminate against family members with mental illnesses through overprotection and excessive sympathy. For example, Thornicroft et al found that, even though family members of mental patients were supportive, the patients sometimes felt they were being overprotected and not given their independence to do certain things.21 Barke et al found that some members displayed an excess of sympathy to relatives with mental disorders. As with overprotection, 'over-sympathy' negatively affected the self-determination of Ghanaians with mental illnesses, often by blocking efforts to help them overcome or cope with their conditions. In many cases, excessive sympathy took the guise of pity and a lack of respect for family members with mental illnesses.22
At the societal level, studies have found that it is usually the friends and neighbours of persons with mental illnesses who act in degrading ways towards them and, hence, reproduce discrimination and stigmatisation on a wider basis. For example, Barke et al reported that some participants wanted mental patients to be sent away and isolated from their communities or, at the very least, they refused to live nextdoor to someone known to suffer from a mental illness.23 Dako-Gyeke and Asumang as well as Tawiah confirmed this finding when they discovered that persons with mental illnesses were deserted and shunned by their friends and neighbours. They also found a widespread aversion to marrying people with or who had a history of mental illness. When asked why they harboured these feelings, respondents across several studies accused mental patients of being harmful, dangerous and unpredictable in their behaviour.24
Apart from the fact that people wished them to be isolated from general society or avoided their company, persons with a history of mental illness were also ridiculed and removed from groups or associations they initially belonged to before falling ill. For instance, a Ghanaian woman with a mental illness interviewed by Thornicroft et al said:
I used to be very influential in the local community, I was chair of the Education Committee, but I discovered that they don't involve me so much anymore ... I used to socialise in my community, then they would be looking at me in a funny way and for a couple of them, it's like you don't exist anymore. 25
Of the many community institutions, one might expect that formal churches or other religious organisations - as opposed to prayer camps - would be part of the public sphere where persons with mental illnesses would be embraced more warmly. However, the research that has been done suggests otherwise. For example, Thornicroft et al found that religious institutions also stigmatised and discriminated against their members with mental illnesses. One participant revealed that after she had narrated her ordeal to her church members as a form of testimony, they withdrew themselves from her, and she later regretted testifying to her church members because of the way they reacted towards her.26
Perhaps worse than being removed from or shunned by civic associations, Dako-Gyeke and Asumang also found that that publicly-identified mental health patients were labelled with derogatory language ('crazy,' 'lunatics', and so forth), and were often left to beg for food along the streets of urban centres in order to survive.27 When people begin to label mental health patients as lunatics, mad or crazy, what is meant is that they are of no use to society any longer. However, the fact is that mental illness can be treated, and those who are suffering could be made responsible and their condition restored if people regard them the same as any other person suffering any other form of illness. However, because of negative public attitudes towards persons with mental illnesses, most mental health patients do not want to be known publicly and, thus, do not seek medical treatment from formal health institutions. Instead, stigma and discrimination often drive Ghanaians with mental illnesses to prayer camps and traditional healers for treatment.28
Ghanaians with mental illnesses are also discriminated against and stigmatised in the workplace by prospective or current employers and colleagues. Employers often refuse to hire individuals with mental illnesses. That this practice may be common is illustrated by Barkeet al, whose recent study reported that 77,2 per cent of mental health patients asserted that most employers will pass over their applications in favour of other candidates without mental health problems.29 In other cases, respondents reported about being dismissed by employers if they developed a mental illness after having been hired. Some employers also admitted to believing that they would lose customers if they employed individuals with visible or known mental illnesses.30 In addition to not being hired or being dismissed, Thornicroft et al reported that some employers would reduce the number of hours or days worked by employees with mental illnesses, although the respondents were not sure whether the employers did so because of discrimination or because they believed that it was for the good of the employee.31 At least one study added a gender dimension to workplace stigmatisation, finding that women reported more cases of discrimination than their male counterparts.32 In addition, multiple studies have revealed that co-workers as well as employers routinely stigmatised and discriminated against persons with mental illnesses. This includes general levels of discomfort working alongside a colleague considered to have a mental illness, as well as more active forms of stigmatisation in the form of humorous, degrading and derogatory comments, and accusations that a co-worker with a mental illness may be dangerous and cause harm to others. 33
The final level at which discrimination and stigmatisation take place is that of health service providers in both formal and informal settings. According to Human Rights Watch, health service providers discriminate against and stigmatise Ghanaians with mental illnesses by denying them food and medicine, refusing to provide them with adequate shelter, subjecting them to involuntary treatment, and physically abusing them in cruel, inhuman and degrading ways.34 This corroborates with the findings of Thornicroft et al, who found one of their participants asserting that she had been forcibly held by a group of health personnel and given an injection against her will.35 Human Rights Watch also established that nurses at times verbally abused and physically inflicted pain on patients with mental illnesses, especially when they were 'trying to escape, when they complained about pain, and when they failed to take medication, or for failing to follow hospital rules'.36 Ghanaians with mental illnesses are treated in this way whereas others, such as malaria patients, are not, because persons with mental illnesses are stigmatised in the sense of being labelled and stereotyped as inferior or dangerous.
A common thread running through popular reports and academic studies on stigma in Ghana is the idea that mental illness is caused by supernatural forces. For instance, the BBC reported in 2010 that an increasing number of disabled African children were being accused of witchcraft.37 Similarly, as part of a special series on children in South Africa, Voice of America News claimed that children with cerebral palsy were considered by some Xhosa families to be 'bewitched' by bad spirits.38 More recently, the Huffington Post claimed:
The most frequently-stated causes of disability in Uganda and Africa at large include witchcraft; a curse or punishment from 'gods', anger of ancestral spirits, bad omens, reincarnation, heredity, incestuous relationships, and the misdemeanors of the mother. These misperceptions not only lead to stigma, but also to a belief that children with disabilities should be demonised.39
NGO reports paint a similar picture. In a four-country survey, for example, Plan International stated that respondents from Togo, Sierra Leone, Niger and Guinea commonly said that mental illness often was 'inflicted due to a "bad spirit"', or was 'a curse from God'.40 In Ghana, an oft-quoted report by Human Rights Watch states that 'disability is widely considered - even by persons with mental disabilities themselves - as being caused by evil spirits or demons'. As such, casting out evil spirits is an important part of the cure, and fasting in prayer camps is believed to facilitate this process.41 Ghanaian beliefs in spiritual causes of mental illness have been confirmed by systematic academic studies. For example, a team led by the respected disability scholar Ursula Read reported that many of the 67 interviewees - including persons with mental illnesses - attributed the illnesses to 'evil spirits, sorcery and witchcraft'.42 These beliefs, combined with the pervasiveness of discrimination and stigma within the family, in public, at the workplace and among health service providers, result in family members often forcing Ghanaians with mental illnesses to attend fetish shrines or prayer camps for treatment. 43
3 CRPD and mental health
It is in the above contexts that we should consider the potential of the CRPD as a tool for combatting human rights abuses towards Ghanaians with mental illnesses. Opened for ratification in 2006, the CRPD has transformed the discussion of global disability and focused attention on human rights for disabled individuals in the majority world.44 The champions of the CRPD are very optimistic about its potential, claiming that the Convention has produced 'a paradigm shift in political conceptions of disability',45 which has triggered a new disability discourse capable of empowering civil society,46 in turn making it possible to 'legislate a belief change regarding persons with disabilities'.47 One optimist goes as far as writing that the CRPD will lead to the removal of 'societal barriers that create and reinforce disability'.48 Others are not convinced. Pointing to the African context, Lang and Groce and their colleagues have found that successful implementation has been hampered in Nigeria, Zimbabwe and Uganda by problems of governance (inadequate national disability laws, limited political will) and weaknesses within DPOs (underfunding, overwork, control by paternalistic urban elites). This is particularly disturbing because, to secure their rights, disabled individuals require more resources and support than non-disabled persons.49 Similar problems have been identified in South Africa, Kenya and Ghana.50 The problem is compounded when disabled persons lack the power, money and/or education to claim their rights.51 If this is the case, 'rights can do nothing but reinforce the status quo, as those left powerless can do nothing [but] make sporadic and/or symbolic claims'.52 By implication, unless a disabled individual gains support from a more powerful and/or wealthy patron, or perhaps moves up the social ladder, a rights-based approach actually may reproduce the marginalisation of disabled individuals in the majority world.53 This effect may be worsened if communities in majority world settings have different conceptions of practices that Western law makers consider to be human rights abuses.54 As we shall see below, the majority world beliefs about human rights - and in our case Ghanaian beliefs specifically - are especially applicable to questions about mental illness.
Of the CRPD's provisions, article12 (mental capacity), article 14 (equality of liberty and security) and article 17 (physical and psychological integrity) relate most directly to mental health. As with the CRPD generally, these articles reflect the participation of DPOs in the drafting process. As a result, the CRPD privileges 'the values, preferences and life projects of (disabled persons)' and seeks to reorient legal regimes with this goal in mind.55
This approach rejects the medical model of disability put forward by non-disabled medical experts, which defines disability as an impairment and takes a charitable approach towards interventions designed to 'normalise' disabled bodies. In its place, the CRPD shifts the ground to the social model, which argues that disability is socially constructed by non-disabled actors. As expressed in the CRPD, the social model emphasises autonomy and self-determination in the pursuit of disability rights.56 In relation to mental health, this priority informed the drafting of articles 12, 14 and 17 but, as we shall see, the drafting process was contentious and the results were ambiguous and not unproblematic.
Article 12 sets out the right of disabled persons to play an active role in decisions affecting their well-being. The article takes a very strong stance against substitute decision making, in which a person assumes decision making for another person without their consent. However, it permits supported decision making, whereby a person permits someone else to make their decisions, so long as safeguards are put into place to ensure true participation and consent in decision making.57 However, the article does not set out how this may be achieved in practice, and there are no mechanisms to monitor safeguards or adjudicate disputes between disabled persons and the decision makers should they arise. Article 14 guarantees equality of liberty and security, including protection from arbitrary detention. According to this article, any form of detention solely based on disability without the consent of the disabled person is prohibited.58 However, article 14 does not preclude preventive detention on other grounds, such as danger, if it is 'de-linked' from disability, and some governments, including that of Britain, have argued that preventive detention does not violate article 14 if it is justified by the risk posed to the disabled person or their community.59 Article 17 sets out the right to 'physical and psychological integrity', which includes protection from compulsory medical treatment. However, it is very brief (only 23 words in total) because of disagreements and a lack of consensus during the drafting process. As a result, governments can (and have) argued that the CRPD allows for compulsory treatment as long as it does not include 'torture or inhuman or degrading treatment'.60 While the UN Office of the High Commissioner for Human Rights (OHCHR) and the CRPD Committee disagree with this interpretation, it is nonetheless possible for governments to make the case. 61
This brief discussion of articles 12, 14 and 17 raises several questions about the CRPD, mental health and disability rights. In the weakest case, the CRPD leaves much room for interpretation, and its provisions related to mental health have been challenged by governments in the West, including those of Australia and Canada. In the strongest case, the CRPD calls for autonomy and self-determination for persons with mental illnesses and an end to involuntary treatment, coercive physical punishment and substitute decision making. But even the strongest case requires certain prerequisites, especially sufficient access to the resources needed to support decision making and autonomy. The Implementation Manual for the CRPD drafted by the World Network of Users and Survivors of Psychiatry (WNUSP) sums this up as follows:
Autonomy and self-determination are dependent on having sufficient access to resources so that economic and social coercion do not lead to decision making that does not reflect the person's own values and feelings ... Autonomy and self-determination are also dependent on the existence of meaningful alternatives related to the particular decision at issue. 62
Through their participation in the process of drafting the CRPD, persons with psychosocial and intellectual disabilities have introduced, in Wildeman's words, 'the emancipatory project of shifting mental health policy from its historical fixation on involuntariness and incapacity toward the relatively uncharted territory of supports'.63 Wildeman supports this position in calling for the creation of 'supportive social systems (including access to material resources and a range of meaningful options)', which she believes 'are essential to the development and expression of autonomy'.64 The reference to 'material resources' is consistent with the argument by the creators of the social model that economic development is a necessary precursor for disability rights. This, as we shall see in the next section, complicates the discussion of mental health rights in the Ghanaian context.
4 CRPD, mental health and Ghana
Against critics who dismiss the CRPD's approach as 'fantastical extensions of the social model to the point of denying the phenomenon of impairment', Wildeman argues that international agencies should use the CPRD as a basis for investigating the social supports required for achieving 'autonomy and active citizenship' based on the perspectives of
persons with psychosocial disabilities and also those with intellectual disabilities - including persons with direct experience of capacity determination or coercive interventions - across different cultural, social, and national locations and across intersecting categories of discrimination including race, gender, and age. 65
Doris Danquah is one such person with direct experience of forcible confinement and involuntary treatment. As such, as Wildeman would argue, we should heed Danquah's call to confront human rights abuses at fetish shrines and prayer camps. At the national level, the first step would be for the Ghanaian government to rewrite its Mental Health Act to make it consistent with the CRPD's call for autonomy and self-determination. Interestingly, in 2012, the year in which Ghana ratified the CRPD, the Ghanaian government did pass a revision to its 1972 Mental Health Act. The 2012 Act addresses human rights, but it continues to permit involuntary treatment and substitute decision making. According to article 42, a third party may apply to a court to admit a person with a mental illness against their will, if there is a risk of self-harm or harm to others, or if it is believed that their condition will deteriorate significantly. Patients can be admitted either to an accredited facility under the Health Institutions and Facilities Act of 2011, or to an institution recognised by the Minister of Health.66
The current Ghanaian Health Act clearly contravenes the spirit and intention of the CRPD. As a first, step, therefore, it would be reasonable to pressurise the government to revise the Act accordingly. This would at least provide a foundation for mental health advocates, such as Doris Danquah, to lobby for choice of treatment. However, even if the Ghanaian government were to change the Act, achieving the CRPD's ideals of self-determination and autonomy for persons with mental illnesses would face significant challenges. In the short term, it appears that the Ghanaian government is willing to collaborate with fetish priests and prayer camp leaders in the delivery of mental health care.67 If this practice takes root, the fetish and prayer camps will remain part of the country's informal system of delivering mental health services, which - in light of the current Mental Health Act - would keep the door open to involuntary admissions without the consent of Ghanaians with mental illnesses. As such, activists, NGOs and other lobbyists could promote human rights and attempt to change attitudes. Some scholars appear to believe that this might be the best way forward, arguing that shrines and prayer camps can treat patients effectively if their leaders are taught to eliminate forcible confinement and abusive behaviour.68 However, there is some evidence that many Ghanaians with mental illnesses accept the necessity of forcible confinement, including chaining, as a result of moral beliefs that place community needs above individual needs.69 Changing beliefs, therefore, might pose a formidable challenge in the short term.
As a long-term solution, social model advocates argue that economic development and equitable distribution of its proceeds are necessary precursors to disability rights, especially in the majority world.70 This idea is present in the CRPD and it is implicit in the WNUSP's belief - quoted above - that persons with mental illnesses must have access to enough resources to eliminate 'economic and social coercion' that may force them to make decisions against their will.71 But would economic development automatically produce changes in culture and attitudes? This is a difficult question to answer. Current attitudes in Ghana towards mental illness and fetish shrines and prayer camps certainly are rooted in culture and society. But rather than being 'traditional' in the sense of having existed since time immemorial, they are instead rooted in historical changes connected to colonialism, development and modernity. During the colonial era 'witchcraft' and 'fetish cults' blossomed in Ghana in the context of the country's uneven integration into the world economic system. The Akonedi shrine, for example, where Doris Danquah spent her first episode of involuntary confinement, dates to the mid-1800s and emerged as an important healing shrine only during the leadership of the shrine priestess, Nana Ama Ansaa, between 1927 and 1957.72 More obviously, Christian prophets date from colonial times, and they were connected to anti-witchcraft campaigns from the 1920s and 1930s. The preoccupation with witchcraft continued after independence and escalated with the boom in evangelical churches since the 1980s .73 As such, these beliefs are not traditional in the sense of being timeless. Indeed, p resent forms of culturally-based stigma and discrimination towards persons with mental illnesses (and other disabilities) in Ghana are not mere primordial relics of an ancient past. On the contrary, they are expressions of Africa's uneven development and incorporation into the modern world. African cultural institutions and norms are not static, but instead have shifted and transformed over time in response to the challenges posed by uneven development, poverty, eroding social services and threats to community social cohesion. The lesson here is that, in order to nurture attitude changes, economic growth is not only necessary in a general sense, but it must be equitable as well as robust, reaching into rural areas and down to the village and community level.
5 Conclusion
Numerous factors contribute to the stigmatisation of mental illness in Ghana. One problem is the cultural myth that attributes mental illness to curses, or the visitation of the sins of one's forefathers, or other forms of personal weakness. These beliefs justify the shunning of the victims and their treatment as second-class citizens. It also explains why people such as Doris Appiah Danquah are sometimes sent to consult fetishes or subjected to abuses in spiritual camps. Clearly, these practices have cultural foundations, and attitudes need to change. Some NGOs, such as Plan Togo, have initiated programmes towards this end. They believe that sensitisation is the key to ending stigma towards disabled persons, and this organisation is working to help parents and children to raise awareness of how important it is to integrate children with disabilities into education and the community. 74
However, is it enough to simply focus on educating and convincing non-disabled persons to shift their attitudes towards mental illness? Our analysis suggests that it is not. Instead, one should search for the underlying roots of these attitudes. In the case of Ghana, these roots are not simply traditional but rather tied to the country's historical experience with development and modernity, which has produced or strengthened certain 'traditional' narratives as opposed to others. In this sense, disability is socially constructed on the foundation of economic roots. Prior to or along with programmes to change attitudes, there must be programmes to deliver equitable economic growth in general, including growth for the non-disabled population and development that provides disabled persons with opportunities for productive activities, it they so choose. If this can be achieved, then disabled Ghanaians - including those with mental illness - might have more opportunities for social inclusion and more power for self-advocacy. In the long term, this could provide a basis for changing attitudes towards mental illness, including the attitudes of the leaders of fetish shrines and prayer camps.
Perhaps more importantly, in the short and medium term proceeds from growth and development should be directed to social supports, including programmes to strengthen the state's capacity to recruit medical professionals and deliver social services. This addresses a second problem related to overcoming stigma towards mental illness in Ghana: the lack of psychosocial approaches to treatment. Ghana's mental health system is overly dependent on medication, which can negate the effective treatment of persons with mental illnesses. But even where medicines are effective, Ghana's lack of psychiatrists and shortage of antipsychotic and psychotropic medications severely limit treatment options. As a result, the psychiatric hospitals are severely overcrowded and families are forced to explore alternative treatment through fetish shrines and prayer camps. In light of this situation, we believe that improving economic conditions and the capacity of the state to deliver medical services are necessary foundations for changing attitudes to reduce stigma. It is not a question of simply altering supposed traditions of stigma, discrimination and social exclusion.
The situation seems dire, but new developments in disability rights have allowed disabled activists to begin to combat stigmatisation and discrimination. After 22 years, Doris Danquah was able to go back to university to complete a nursing degree. She is now a strong advocate for the rights of persons with mental illnesses and, along with other activists, she is working to change socials norms and public policies. Her story deserves a wide audience. She and other disabled Ghanaians need to be supported by changes in the material conditions of their societies. Economic growth, better social service provision and incentives to recruit more medical professionals would be a very good starting point.
---
---
Mark P Mostert
PhD, Regent University, Virginia Beach, Virginia, United States of America.
Martha M Weich
BA Hons BTH; Vicar, United Evangelical Lutheran Church, South Africa.
---
MP Mostert & MM Weich 'Albinism in Africa: A proposed conceptual framework to understand and effectively address a continental crisis' (2017) 5 African Disability Rights Yearbook 101-117
http://doi.org/10.29053/2413-7138/2017/v5n1a6
---
Summary
Across Africa trafficking in albino body parts is far more complicated than might first be assumed, as this activity is merely the end result of a complicated process with origins far removed from the point of sale. The literature in this area tends to focus on either (a) the actual act of procuring and selling body parts; or (b) loosely-related and fairly vague reports of why this process flourishes. There is no extant overarching conceptual framework linking key underlying interrelated vectors that combine to drive severe exploitation of persons with albinism, (for instance, stigma; traditional and other cultural beliefs; the status and impact of authority figures; local, regional and national discrimination; the financial impact and economy of scale in trafficking body parts, and so forth). The absence of such a framework directly hinders proposing or implementing effective solutions, as these solutions are unlikely to succeed if they ignore the highly-symbiotic relationships among the undergirding vectors. Therefore, we propose an initial conceptual framework that unpacks crucial connections among related variables impacting trafficking in albino body parts in Africa, and then use the framework to suggest areas of emphasis to reduce and eliminate the trafficking of these body parts in Africa.
1 African context
Trafficking in human body parts is a persistent, intractable international problem and is a direct response to the ever-growing need for transplantable organs worldwide. However, there is an even more sinister set of circumstances in Africa: The trafficking in body parts of Africans with albinism for use as magical charms and in magical potions, in several countries, has reached crisis proportions.
Exact statistics of albino killings, maimings and abductions are not currently available. However, these practices are likely to occur across most of the continent. A recent report indicated that in 25 African countries, there had been 185 killings and 297 survived attacks. African countries known to be involved in the trafficking of albino parts include Tanzania, Burundi, Kenya, the Democratic Republic of the Congo (DRC), Mozambique, Malawi, South Africa and Swaziland. Further isolated reports of killings and attacks have come from Benin, Botswana, Burkina Faso, Burundi, Cameroon, Côte d'Ivoire, the DRC, Egypt, Ghana, Guinea, Kenya, Lesotho, Malawi, Mali, Mozambique, Namibia, Niger, Nigeria, Rwanda, Senegal, South Africa and Swaziland.1
Three brief representative examples suffice: Malawi, Kenya, and Burundi and, with attention to the apparent ground zero of trafficking in persons with albinism, Tanzania.
1.1 Malawi
Irinnews2 recently reported that from early 2015 to May 2016 ritual killings of persons with albinism escalated in Malawi with 17 cases documented along with 66 abductions and other albinism-related crimes. The purpose of the murders and abductions was to sell body parts to witchdoctors and other practitioners of traditional medicine.
For example, a teenager with albinism watching a soccer match was abducted and later found dead without his hands and feet, which were allegedly sold to a dealer in Mozambique. Elsewhere, a 30 year-old woman was murdered, her breasts and eyes removed.3
1.2 Kenya
In Kenya, there have been at least 75 murders of children and adults with albinism since 2000. There is little information on murder and abduction attempts, but they are fairly widespread, especially in rural parts of the country. For example, in September 2015 three men attacked a 56 year-old home owner demanding money. When the victim refused, the attackers suggested they cut off a hand or ear to sell in neighbouring Tanzania.4 The victim was cut deeply several times around his ear and his arms before the assailants fled. Officials suggested that such attacks were a direct result of the government's crackdown on albino hunters in neighbouring Tanzania.5
1.3 Burundi
While Burundi is home to several thousand Africans with albinism, trafficking in body parts has until recently been fairly contained. However, as trafficking has increased in neighbouring Tanzania, and with the Tanzanian government's subsequent action to eradicate albino hunters, attacks are escalating in Burundi. For example, in 2012 six heavily-armed men attacked a group of children in their home. One child was kidnapped and later found dead without her arms and legs. There have been other reports of albino bodies being disinterred and mutilated. The last 10 years have seen 21 murders of persons with albinism; another 13 survived attacks; and several graves have been robbed of corpses of persons with albinism.6
1.4 The continental trafficking dynamo - Tanzania
While it is likely that trafficking in body parts occurs in many places across the continent, there is little doubt that 'ground zero' for the crisis is Tanzania. The current spate of killings began in October 2006, in and around the city of Mwanza on the shores of Lake Victoria, a region with the highest per capita number of witchdoctors in the country.
By 2008, the Tanzanian government responded in several high profile ways, including appointing a woman with albinism to the national parliament, banning all traditional healers and witchdoctors from practising their trade, and declaring the killing of persons with albinism a capital crime. Between 2006 and June 2016, there were 76 killings, 69 attack survivors, one abduction survivor, 17 grave robberies, and two failed grave robbery attempts.7
Given these scenarios, there is a need to understand how to ameliorate the problem. As a starting point, we suggest an explicit framework of contributing and intervention factors that impact persons with albinism from their immediate context through more distanced contexts and which merit attention if the trafficking crisis is to be effectively addressed.
What is currently available in the extant literature related to the plight of persons with albinism can be divided into contributing and intervention factors. Contributing factors are those that impact and shape the lives of persons with disabilities in a negative way. Intervention factors are those that seek to positively address the negative contributing factors.8 These factors are addressed below as part of a nested set of systems that lay out the proximity of these factors to any person with albinism.
Both contributing and intervention factors can occur in the immediate context of persons with albinism, or be further distanced from where they live their lives. However, whether in close proximity or further away, these factors are interrelated and nested to form a complex conglomerate of the world of persons with albinism.
A useful framework to set the contributing and intervention factors in context is provided by Bronfenbrenner.9
2 Bronfenbrenner
Bronfenbrenner describes a series of four distinct yet interrelated ecological settings when studying a subject, in this case persons with albinism and trafficking in body parts. Originally developed for ecological educational research, these settings serve the purpose of defining the space around the topic to be studied and, while these spaces are specific and circumscribed, they are both interrelated and nested the one within the other. These settings are the microsystem; the mesosystem; the exosystem; and the macrosystem.
3 The problem
The trafficking in body parts of persons with albinism, economically, is a simple matter of supply and demand. If there were no demand for magical charms or potions, or the willingness of customers to pay exorbitant amounts of money for them, there would be little impetus for this grisly trade. However, the demand is very real and drives the trafficking market and its various players in a commercial trafficking cycle that is well established.
Thus, the entire trafficking process begins and ends with customers who demand charms and potions thought to contain magical qualities. Customers approach a witchdoctor who is the key catalyst setting the process in motion. Depending on the customer's wishes, the witchdoctor will determine the body parts needed for the charm or potion and will then contract the attackers to procure the specific body parts. The attackers, however, need pertinent information about where they might acquire these body parts, that is, the location of persons with albinism. Attackers consult with scouters whose task it is to know where to find a suitable person with albinism and who the sellers are. Sellers are defined as those closest to the albinism victims who provide real-time information about where the victim may be found. Based on this information, the attack on the person with albinism is carried out and the relevant body parts procured. Transporters, who may or may not be the attackers, transfer the body parts to the witchdoctor after dealers have set or negotiated prices with both the transporters and the witchdoctor. Upon delivery to the witchdoctor, the magical charm or potion is manufactured and sold for profit to the customer. We refer to this process as the commercial trafficking cycle, appearing in Figure 3.
Figure 3: The commercial trafficking cycle10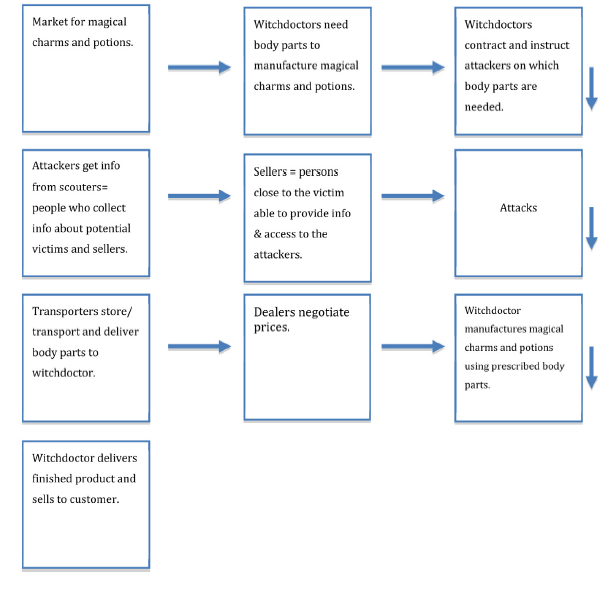 3.1 The commercial trafficking cycle and proximity
An often overlooked quality of Bronfenbrenner's nested systems is the obvious implication that, while nested, the systems are also topographically distanced the one for the other and, therefore from the subject being studied (in this case persons with albinism). That is, the closest system to the subject - here persons with albinism - is the microsystem, with the other three systems (meso-, exo- and macrosystems) being further away. It is this quality of proximity that may also be applied to the stakeholders in the commercial trafficking system to unpack contact between players and their distance closer to, or further from, the victim, as shown in Figure 4 as a series of proximity levels. At level 1, there is no contact (NC) between the victim with albinism and the customer and the witchdoctor. At Level 2, there is intermediate contact (IC) between the victim and scouters and sellers, who are immediately in the vicinity of the victim with albinism, the scouter having to know the immediate whereabouts of the person with albinism and the seller being a direct acquaintance of this person. Finally, in terms of proximity, full contact occurs when the assailants physically attack the person with albinism that results in either severe maiming or death as the ordered body parts are procured. Thereafter, proximity recedes in reverse order of that preceding the attack. Transporters of the body parts and dealers who are the middle men setting prices are classified as having intermediate contact seeing that they are in proximity to the person with albinism's body parts rather than the person with albinism themselves. Finally, to complete the process, the witchdoctors receive the body parts, manufacture what the customer ordered and the transaction is thereby completed. Here, neither party has any actual contact with the person with albinism.
4 Solutions
Clearly, this state of affairs calls for immediate action at every level of society. The extant literature, however, as with the contributing and intervention factors discussed earlier, notes actions that are heavily weighted toward the protection of, and advocacy for, persons with albinism in the face of organ trafficking issues. These may also be placed within Bronfenbrenner's nested systems and are amalgamated from suggestions in the literature. 11
At the level of the microsystem, the immediate setting, literature suggestions centre on how to protect, assist and provide advocacy for persons with albinism. At the level of the mesosystem, a related set of settings, the literature suggests that law enforcement entities have the capacity to detect organ trafficking, and that awareness of organ trafficking across the community be operationalised. At the level of the exosystem, the settings where social structures and institutions reside, suggestions include optimising co-operation among all entities involved in combating trafficking; the strengthening of local and national justice systems and jurisdictions; collecting and analysing data related to trafficking; and strategic advocacy efforts at the level of state institutions. Finally, at the level of the macrosystem, which encompasses cultural and other national institutions, the literature calls for co-operation between countries to eradicate trafficking; the application of international pressure; and the call for special rights for persons with albinism under national and international law.
What is clear is that these efforts, no doubt well intended, are scattered, often unrelated, and nowhere near as substantial and interconnected as they need to be to start making a difference to the lives of persons with albinism whose lives are threatened because of the procurement and trafficking of their organs. Here the question is 'What are the forces needed to detect and destroy the commercial trafficking cycle in albino body parts?'
While victim protection/assistance and self-advocacy are no doubt helpful, they are not sufficient at the level of the microsystem. We suggest that other vectors be considered, as summarised in Figure 5.
5 Conclusion
The article laid out three crucial vectors related to the crisis of persons with albinism in Africa.
First, we noted that there currently exists a significant number of contributing and intervention factors nested within all aspects of African society that seek to address the challenges faced by persons with albinism. While this scenario is far from complete, and while many current interventions may or may not be effective, it is clear that the community of persons with albinism in some countries are being acknowledged and their issues addressed, however imperfectly. Here efforts need to be increased in terms of both intervention focus and efficacy to make the lives of PWA better on all counts. Furthermore, these efforts are significantly uneven. For example, efforts in Tanzania far outstrip efforts elsewhere to address not only the wellbeing of persons with albinism, but also to attempt to curb the commercial trafficking cycle. Not only must efforts continue in Tanzania, but they must be more seriously addressed wherever persons with albinism are found.
Second, we analysed the commercial trafficking cycle and noted the proximity of various players to the victim. It is important to articulate this cycle and proximity issues as a starting point for addressing how, eventually, it might be disrupted and eradicated. The cycle has only recently been articulated, and there is no evidence in the literature that we could find that addresses the cycle in its complexity and influence, let alone speculating on effective solutions. For example, virtually no attention is paid to players other than the attackers. While this focus is on its own terms necessary, it is not sufficient, as it is equally important to consider the entire set of players and how they (significantly) contribute to the procurement of organs of persons with albinism.
Third, we gathered from the literature what prophylactic efforts were available specifically targeting the safety of persons with albinism as potential victims for organ procurement and trafficking and how they were nested in proximity to these persons. What is clear in this regard is that current efforts are piecemeal and scattered; much more 'Band aid' solutions to immediate problems than an actual co-ordinated effort that addresses, at least, the albinism side of the trafficking issue. Clearly, the paucity of efforts here is a boon to those profiting from the commercial trafficking cycle in that they are usually able to easily circumvent whatever paltry efforts exist.
In sum, we acknowledge that the very real plight of persons with albinism is beginning to be noticed and addressed, albeit in a piecemeal and somewhat unco-ordinated way, but that at every level, from the person with albinism in an African village to the national and international structures that govern the globe, there is so far no measured, logical, sequenced approach to adequately protect and include Africans with albinism.
---
---
Faraaz Mahomed
Visiting Research Fellow, Centre for Applied Legal Studies, University of the Witwatersrand, Johannesburg, South Africa; Harvard Law School Project on Disability
Michael Ashley Stein
Extraordinary Professor, Centre for Human Rights, Faculty of Law, University of Pretoria, South Africa; Visiting Professor, Harvard Law School; Executive Director, Harvard Law School Project on Disability.
Professor Stein is grateful to the Weatherhead Center for International Affairs, Harvard University for supporting this research.
---
F Mahomed & MA Stein 'De-stigmatising Psychosocial Disability in South Africa' (2017) 5 African Disability Rights Yearbook 64-83
http://doi.org/10.29053/2413-7138/2017/v5n1a4
---
Summary
Stigma and associated discrimination against persons with psychosocial disabilities constitute a considerable barrier to the realisation of the highest attainable standard of health in South Africa, Africa, and further afield, constituting a significant human rights violation. This situation is evidenced and exacerbated by mental health as a whole remaining under-prioritised in law, policy and resource allocation. States parties to the Convention on the Rights of Persons with Disabilities (CRPD) have a duty to address stigma and discrimination through awareness raising and education. Some important commitments have been made in this respect, particularly at the policy level in South Africa. Nevertheless, and as demonstrated by tragic recent events, effective implementation remains lacking. This article lays out the obligations incumbent upon the South African government to address stigma and discrimination on the basis of psychosocial disability as a public health and human rights imperative by examining positive duties incorporated into international instruments and domestic law and policy. It further considers the role of political de-prioritisation of mental health and how this constitutes stigma of a systemic nature, using case law and examples of research and best practice from South Africa, Africa generally, and beyond. We conclude that South Africa is failing to meet its obligations to persons with psychosocial disabilities, and recommend that positive duties be emphasised in potential disability-specific legislation; high-level political commitment and co-ordination is secured for mental health; the CRPD's independent monitoring requirement is urgently fulfilled; and contextually-relevant interventions are crafted with the active participation of persons with psychosocial disabilities and their representative organisations.
1 Introduction
The World Health Organization (WHO) estimates that over 450 million people worldwide live with psychosocial disabilities,1 a figure some experts believe to be a severe under-approximation.2 Empirical certainty is especially challenging in South Africa where the overall accuracy of disability statistics has been the subject of significant debate due to unreliable, inconsistent and, at times, possibly biased measuring and reporting methods.3 Moreover, pervasive stigma and discrimination relating to persons with psychosocial disabilities in that state remain neglected by law and policy makers notwithstanding an urgent need to eliminate those prejudices and their consequences. Specifically, despite law and policy provisions that obligate South Africa to educate the public on psychosocial disabilities, and to undertake those education initiatives as part of a broader effort to prioritise mental health, no real progress has been made in the development and rollout of national awareness and stigma-reduction activities. As a consequence, mental health as a whole remains domestically de-prioritised and under-researched.
The article examines the need to address mental health stigma and its ramifications as human rights violations and public health challenges in the context of South Africa's broader obligation to ensure the full realisation of the rights of persons with psychosocial disabilities. In doing so, we consider the state's obligations under the Convention on the Rights of Persons with Disabilities (CRPD), and especially its domestic duties as encompassed in the Promotion of Equality and Prevention of Unfair Discrimination Act (PEPUDA),4 the Draft National Disability Rights Policy (NDRP),5 and the National Mental Health Policy and Strategic Framework 2013-2020 (NMHPF).6
We argue that addressing stigma is both a public health and a human rights concern that is inadequately accounted for in existing laws and policies. Although some South African laws and frameworks make mention of stigma and discrimination on the basis of psychosocial disability, or explicitly require the state to take steps to address this problem, existing protections nonetheless remain insufficient. To illustrate: the Mental Health Care Act7 lacks any positive obligation to foster inclusivity, while the provisions of PEPUDA, consciously designed to promote equality through public education,8 have yet to be activated. Lack of adequate resourcing and attendant capacity building, likewise, forms a significant impediment to meeting existing stigma reduction objectives, despite their inclusion in instruments such as the CRPD, NDRP and NMHPF. This demonstrated systemic failure to prioritise mental health in law and policy implementation amounts to stigma in its own right.
To comply with the CRPD as well as its own domestic legislation and policies, South Africa must undertake further actions. These can include high-level state intervention and inter-departmental co-ordination, adopting disability-specific legislation, and strengthening (while also making accountable) the South African Human Rights Commission (SAHRC) in its designated role as the state's CRPD-compliant independent monitoring mechanism. Using lessons from the rest of Africa as well as further afield, we consider how these recommendations might be best implemented for the benefit of persons with psychosocial disabilities in South Africa. Throughout the article we advocate for an African perspective which recognises that specific needs exist for South African persons with psychosocial disabilities, and that any contextually-relevant interventions must take those needs into account by including the active participation and consultation of those individuals and their representative disabled peoples' organisations (DPOs).9
2 Global, African and South African perspectives on Addressing Stigma
Stigma on the basis of psychosocial disability is a significant source of social marginalisation as well as a cruel and pervasive affront to human rights and individual dignity.10 This prejudice can dehumanise those affected and cast them as ineligible for fundamental rights,11 including rights of access to health care facilities that (ironically) can help ameliorate those very same stigmatised and impairing conditions.12 Discrimination can also play a role in perpetuating or causing 'socially-induced stress', at once a product and a recapitulation of the original structural and institutional biases that result in psychosocial impairments.13 In this sense, stigma and discrimination constitute a cyclical phenomenon, further alienating and oppressing those who have already been alienated and oppressed.
False attributions that consider psychosocial impairments as the product of witchcraft, supernatural possession or 'feeble-mindedness' have been demonstrated to be particularly significant impediments to accessing mental health care on the African continent.14 This barrier is exacerbated by negative attitudes among health care workers and a dearth of adequate treatment options, which in combination reinforce harmful stereotypes by leaving psychosocial disabilities untreated.15 In South Africa, much like the rest of the continent, the role of stigma as a rights violation and as an impediment to accessing responsive care continues to greatly impede individuals from seeking support, care or treatment.16 Similarly, a lack of adequate information and training on mental health issues causes some health care workers to feel unable or unwilling to render services to persons living with psychosocial disabilities.17 The result is that psychosocial disabilities often go untreated, that communities exclude people who could live fulfilling and productive lives in those communities, and that mental health continues to suffer a 'lack of ownership' as a policy priority.18
Stigma also hinders progress toward developing laws and policies relating to mental health in African countries, including South Africa.19 Thus, although Ghana enacted mental health legislation, and South Africa promulgated the NMHPF, the lack of implementation of the respective statutes continues to bar progress in each of these countries.20 Ghana, for example, despite the promulgation of a national Mental Health Act in 2012, has yet to implement the law or prioritise mental health care in practice due to a lack of financial, human, and political resources.21 The next part considers incumbent obligations by South Africa to ensure that stigma is addressed.
3 South Africa's obligations to address stigma
South Africa ratified the CRPD in 2007.22 Further to the Constitution of the Republic of South Africa,23 the act of ratification bound the state to honour the treaty's mandates. Amongst these obligations are requirements enumerated in article 8(1) that states break down stigma and positively educate their populations on issues relating to disability.24 This legal duty is worth citing in full. States are charged:
a. To raise awareness throughout society, including at the family level, regarding persons with disabilities, and to foster respect for the rights and dignity of persons with disabilities;
b. To combat stereotypes, prejudices and harmful practices relating to persons with disabilities, including those based on sex and age, in all areas of life;
c. To promote awareness of the capabilities and contributions of persons with disabilities.
The responsibilities in article 8 have a direct bearing on all obligations arising under the CRPD, because each of the treaty's provisions must be read horizontally and holistically, including the non-discrimination and equality provisions (article 5).25 Obviously connected duties relating to individual articles include equal access to health (article 25); provisions which guarantee the right to education (article 24) and to work (article 27); and the mandate for inclusion in the community (article 19). Put another way, countering the impact of stigma makes it vitally easier for people with psychosocial disabilities to seek care, attend school and university, pursue employment that is fair and dignified, and live where and with whom they wish.26 Hence, numerous intersecting rationales support states alleviating stigma and discrimination, and restoring the dignity and fundamental freedoms of persons with psychosocial disabilities.
In domestic South African law, section 10 of the Mental Health Care Act prohibits discrimination on the basis of mental health status, but imposes no penalties for its violation. nor does it incorporate positive duties and, instead, focuses largely on issues of legal capacity and institutionalisation.27 Nevertheless, these elements of mental health law have a substantial role to play in improving the quality of life of persons with psychosocial disabilities. Indeed, in De Vos,28 the Constitutional Court of South Africa characterised provisions allowing for the imprisonment of people with psychosocial disabilities prior to trial in terms reminiscent of 'socially-induced stress',29 namely, that the practice 'reinforces the stigma and marginalisation that people [living with psychosocial disabilities] are subjected to on a routine basis'.30 Arguably, the same is true of involuntary institutionalisation which, while the subject of some necessary debate,31 has the potential to be routinely abused as well as abusive, thereby causing great harm, including unnecessary stigmatisation, in the process.32
Similarly, as demonstrated in Purohit & Another v The Gambia,33 the sole disability-related decision rendered by the African Commission for Human and Peoples' Rights (African Commission), respect for the freedom of movement and association of people with psychosocial disabilities constituted a central component of the right to be free from discrimination itself. The Commission recognised that the right to appeal involuntary detention was essential for the assurance of the dignity of persons with psychosocial disabilities, while also asserting that laws which inadequately protected the rights of these persons constituted a failure to recognise their special needs and, therefore, amounted to discrimination.34
3.1 Incorporating a positive obligation
Purohit likewise elaborated on the need for positive measures to integrate persons with psychosocial disabilities into society. The African Commission required The Gambia to ensure appropriate steps for inclusivity through law and policy designed to address discrimination and, in the process, advance associated rights such as the right to 'a decent life, as normal and full as possible'.35 Trenchantly, Purohit asserted the value of the right to health and required that its realisation be advanced positively
without 'discrimination of any kind'.36 The decision, therefore, underscores the need for disability to be de-stigmatised in all spheres if discrimination is to be fully alleviated at individual, community, institutional and social levels. It also implies a positive and active state duty to seek a means of promoting inclusivity, whether in advancing the right to health care or in seeking to ensure access to the full spectrum of rights.37
Aside from the Mental Health Care Act, no other form of disability-related legislation currently exists in South Africa. PEPUDA places a positive obligation on the state to promote the right to equality, including non-discrimination, on the basis of disability. Section 25(1)(a) of PEPUDA requires the state to 'develop awareness of fundamental rights' through, among other means, public information campaigns. Therefore, a significant obligation exists in respect of the promotion of the right to equality in South Africa, including through awareness raising and information dissemination. Yet this provision, along with the entire chapter of PEPUDA that deals with the promotion of the right to equality, remains in abeyance awaiting the signature into law of the President of South Africa, a situation that has persisted for over 17 years.38
It is worth noting that two recent policy instruments have demonstrated a commitment to a rights-based approach to psychosocial disability and have included stigma reduction as part of these schemes. These policies, which emanated from different departments, are the National Disability Rights Policy (also known as the White Paper on the Rights of Persons with Disabilities), championed by a Directorate of the Department of Social Development (formerly the Department of Women, Children and People with Disabilities), which was approved in December 2015;39 and the National Mental Health Policy and Strategic Framework 2013-2020, which is a product of the National Department of Health.40 These are certainly important steps forward in the advancement of the rights of persons with psychosocial disabilities. Yet, as explored in the next section, notwithstanding considerable commitments on paper, the actual implementation of stigma reduction and public education initiatives have been less forthcoming.
4 Failure to address stigma
In 2013, South Africa issued its first progress report on the state's compliance with the provisions of the CRPD. The report noted in relation to article 8 that, despite awareness regarding the rights of disabled persons occupying a place of prominence in the state agenda, 'weaknesses in co-ordination, implementation and monitoring and evaluation have largely detracted from its effectiveness and impact'.41 This is a grim self-indictment of the inability of the South African government to mobilise resources and political will to support the rights of persons with disabilities. Two years later, South Africa's first periodic country report to the Committee on the Rights of Persons with Disabilities (the treaty body tasked with oversight of the CRPD) outlined a handful of activities aimed exclusively at officials in government departments as evidence of progress towards meeting the objectives of article 8.42 Such an approach belies the fact that the CRPD requires a much broader and societal approach to raising awareness and reducing stigma, and demonstrates that the country is failing to meet these obligations.
That South Africa has made numerous commitments to the reduction of stigma on the basis of psychosocial disability is indeed noteworthy. Yet, the lack of sound implementation and appropriate resourcing for such initiatives is amply borne out by the meagre advances reported in the country's CRPD report. Among the challenges identified in meeting this need is the lack of available resources to ensure sound implementation. Research conducted in 2009 assessed that 'there are not currently resources available for education to reduce stigma'.43 Six years later, Marais and Petersen examined the extent of the country's implementation of the NMHPF, and found that resource allocation remained a challenge. Also contributing to administrative malaise was a lack of political impetus:
The mental health policy framework does not provide sufficient guidance on how stigma should be addressed, with provincial and district level respondents not being aware of any specific anti-stigma programmes for mental health and variations between provinces in terms of prioritising addressing stigma. 44
The lack of political knowledge, will or co-ordination that these authors refer to as stumbling blocks translates directly into an absence of political impetus to destigmatise mental health, regardless of the formal legal obligations and policy commitments to do so. While the promulgation of both the NDRP and the NMFPH illustrates that there is nominal political will to ensure that the rights of people living with psychosocial disabilities are advanced, this has not translated into the actual implementation of stigma reduction activities. Put another way, 'mental health is a priority on paper but not in practice'.45 This failure speaks to a broader neglect - and essentially stigmatisation of its own kind - of psychosocial disability as an area for legal, political and administrative action, as illustrated further below.
5 Realising the obligation to address stigma
Notwithstanding public political commitments by South Africa to ameliorate stigma arising from psychosocial disability, a considerable and glaring gap exists as far as implementation is concerned. Ultimately, weak rights enforcement is not isolated to stigma reduction since mental health more generally remains a neglected issue country-wide, remaining 'low on the public sector agenda'.46 Experts thus point to the entrenched stigmatisation of psychosocial disability as a primary 'excuse for inaction',47 and among 'the chief obstacles' to improving mental health care.48
The marginalisation of mental health as a public health or human rights concern is well illustrated by the fact that less than 5 per cent of South Africa's health budget is expended on assisting people with mental health needs.49 In comparison with countries such as Zambia and Uganda, where less than 1 per cent of national budgets are expended on mental health, this proportion seems relatively generous. Nonetheless, the figure illustrates a very telling point about an urgent need for parity if care provision is to match the burden of disease relating to mental health.50 Purohit may be instructive in this regard as well, with the African Commission encouraging states parties to the African Charter on Human and Peoples' Rights (African Charter) 'to take concrete and targeted steps, while taking full advantage of its available resources, to ensure that the right to health is fully realised in all its aspects without discrimination of any kind'.51 Commentators interpret this to mean that mental health should comprise a significant proportion of the health budget, and that the failure to do so constitutes discrimination against those affected by psychosocial disability.52
Indeed, the under-prioritisation of mental health in South Africa is a pervasive problem, as evidenced by the lack of reliable data. This problem has more recently proven to be deadly. Between March and December 2016, 94 psychiatric patients died after having been removed from institutionalised care and placed in unlicensed community settings which were found by the South African health Ombud to be 'unstructured, unpredictable and sub-standard' in what came to be known as the Gauteng Mental Health Marathon Project (GMHMP).53 These transfers occurred after subsidies for institutionalisation had been cancelled due to an apparent lack of funds54 and because of 'selective interpretation' of the NMHPF55 which, in an effort to comply with article 19's enshrinement of the right to live in the community, calls for a systematic process of de-institutionalisation.56 Instead, what occurred was a 'chaotic' process of transferring patients to under-resourced facilities with untrained staff.57 This is clearly contrary to the state's obligations in terms of the CRPD, and calls into question not only the commitment of the South African government to address stigma and foster awareness of mental health in society, but more pointedly the commitment to recognise and prioritise mental health needs altogether.
The next part considers some potential formal and institutional remedies that can have the effect of addressing what amount to gross failures on the part of the state to meet its obligations.
6 Addressing South Africa's failure to meet its commitments
The CRPD, PEPUDA, NDRP and NMHPF evidence South Africa's binding legal obligations for reducing stigma towards and promoting the rights of individuals with psychosocial disabilities. The state has also made various other commitments through which it has expressed its intention to meet these obligations. Therefore, it would be incumbent upon the South African government to consider the numerous challenges already identified and how these may be engaged with and alleviated. The following is an exploration of the mechanisms through which the advancement of public education and reduction of stigma relating to psychosocial disability might be accomplished.
7 Conclusion
A study of the effects of stigma and concomitant discrimination relating to psychosocial disability in South Africa noted two major effects on those affected, namely, 'being unable to lead normal lives and a worsening state of health of the service user'.102 These outcomes violate human rights protections, are personally harmful, unnecessary and deeply troubling. They represent a failure to integrate people with psychosocial disabilities into broader South African society, and a clear failure to adequately protect persons with disabilities from discrimination and marginalisation as required by the CRPD.103 The South African government is aware of this situation, and appears at least nominally committed to its alleviation. This is significant, and the development of both the NDRP and NMHPF is an important development. Nevertheless, it is through implementation that their progress will be judged.
The Africa Declaration notes the 'urgent need to address stigma, social exclusion and discrimination' as crucial for contributing to quality of life improvements for persons with psychosocial disabilities; further, that the broad community of stakeholders 'must play a major role in bringing about these positive changes'.104 This is indeed a very significant recognition in its own right. Crucially, however, it is accompanied by an important acknowledgment of the 'urgent need for political vision, commitment, and leadership at the highest level to encourage national dialogue on mental health'.105 Governments should take the lead, while working with and supporting an inclusive, cross-sectoral, multi-stakeholder approach that can effectively engage with and remedy conditions and social circumstances that enable or reinforce stigma and discrimination against persons with psychosocial disabilities.
We echo the Africa Declaration's call for commitment and action. This requires not only that government enact sound policies, following on the lead of the NDRP and NMHPF, but also strong and accountable institutions and adequately-resourced bureaucracies to carry them out. In the wake of the GMHMP, South Africa must commit never again to fail those living with psychosocial disabilities. Addressing stigma is one step it can and should take without delay.
---